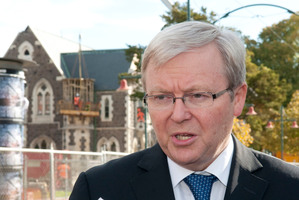 As Prime Minister Julia Gillard struggles to regain momentum after a run of bad news, Labor appears to be again aiming to shoot itself in the foot.
Gillard last week announced that the next election would be held on September 14, effectively launching what will be the longest federal campaign in Australia's history.
But within hours her new problems began: the arrest of a former Labor MP on fraud charges, the resignation of two of her most senior ministers, renewed rumblings within the party and two polls showing a sharp reversal in her previously rising fortunes.
Now the spectre of Kevin Rudd is again stalking Gillard and the Government.
The rumour mill is pumping out speculation that supporters of the leader Gillard ousted by coup in 2010 are mustering their forces for another run for the top job.
A challenge by Rudd was soundly defeated a year ago.
Gillard has also been forced to wrap MPs over the knuckles for leaking damaging reports of dissatisfaction at her leadership to reporters.
All in all, a bad look for a leader trying to convince voters she is firmly at the helm of a ship steering for victory over Opposition Leader Tony Abbott in seven months.
Gillard has already been criticised within party ranks for calling the election so far out, rejecting her argument that she will be able to reclaim the political agenda and put the heat on Abbott. She has also come under fire from the Left for dumping long-time Northern Territory Senator Trish Crossin in favour of Aboriginal Olympian Nova Peris.
Labor also faces fallout from the arrest of former Labor MP Craig Thomson on fraud charges relating to his time as national secretary of the Health Services Union.
And the resignations of Government Senate Leader Chris Evans and Attorney-General Angela Roxon have enabled the Opposition to paint a picture of rats deserting a sinking ship.
Rudd denied yesterday that he had any intention of mounting another challenge, saying his mission in life was to ensure Abbott was defeated.
"I said 12 months ago that I supported the Prime Minister," he said. "That remains my position and everyone should take a very long cold shower."