Rules will grant Obama power to order strikes if genuine cyber threat suspected.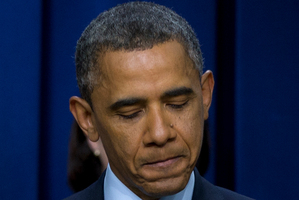 The United States could launch pre-emptive cyber strikes against countries it suspects of threatening its interests with a digital attack, under new, secret guidelines to safeguard the nation's computer systems.
The rules - the country's first on how it defends or retaliates against digital attacks - are expected to be approved in coming weeks, and are likely to be kept under wraps, much like the policies governing its controversial drone programme.
A secret legal review into the guidelines has already decided President Barack Obama has the power to order such pre-emptive strikes if faced with credible evidence of a looming attack, according to the New York Times, which quoted unnamed officials involved in the review.
The revelations come just days after an array of American media organisations, including the New York Times and The Washington Post, said their computer networks had been infiltrated by Chinese hackers. The risk of digital attacks was also underlined by a US Department of Homeland Security report which revealed a computer virus had forced an unidentified US power plant to go offline for three days last year.
The US is known to have conducted cyber attacks of its own. The programme, code-named "Olympic Games", targeted Iranian nuclear facilities with malicious computer worms. It began under President George W. Bush, but Obama is believed to have ordered an acceleration of the digital attacks when he took office. The details only came to light when the Stuxnet worm, believed to have been developed by the US and Israel, surfaced on the internet. Last month, the Iranian Government denied it had any hand in recent cyber attacks on US financial institutions.
While the American military faces deep budgets cuts, the Pentagon approved a major expansion of its "cyber command" from around 900-strong to some 4900 troops in the next few years, according to the Washington Post.
"There are very, very few instances in cyberoperations in which the decision will be made at a level below the President," an official told the New York Times.
"What concerns us is not the growth of forces but the way it is happening behind the scenes," said a Washington Post editorial.
-Independent