UK Foreign Secretary stresses common values.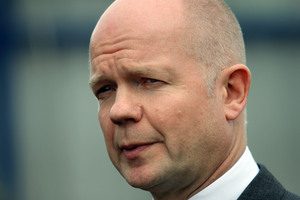 British foreign secretaries have not been frequent visitors to New Zealand. When the relationship was so close that New Zealanders referred to the "mother country", they probably did not feel the need to visit. Then Britain joined the European Community and the Foreign Office became focused on what it saw as its mediating role in Europe's relationship with the United States. But the current Foreign Secretary, William Hague, has a broader view.
He notes that the full title of his ministry is the Foreign and Commonwealth Office. In Opposition he advocated much more attention to the Commonwealth and he has been as good as his word. His visit this week was his second to New Zealand since the Conservatives came to power fewer than three years ago.
He has been no less attentive to other Commonwealth members. In Auckland he and Foreign Minister Murray McCully discussed sharing embassy facilities in some countries as Canada does with Britain under an agreement reached in September.
Mr Hague says it makes sense for "first cousins" to co-operate in this way.
Mr McCully saw no harm in that, pointing out that New Zealand leases space at the Australian embassy in Vienna. He might have also mentioned that New Zealand diplomats operate from the British embassy compound in Kabul, where two of them survived an attack last year.
That raises some concern about sharing buildings. Britain takes a more prominent role in contentious international issues, particularly with Mr Hague as its mouthpiece. His has been a leading voice in support of the Syrian uprising and in criticism of Russia and China for their veto of United Nations resolutions against the Assad regime.
The present British Government, an uneasy coalition of Conservative and Liberal Democratic parties, started with an intention to put some distance between itself and Washington after the previous Labour Government came to grief for its role in Iraq.
Britain has also drifted further from Brussels, counting its blessings that Labour did not join the euro and many Conservative MPs want to put continued EC membership to a referendum that it might well fail.
Anti-European sentiment in Britain would have been welcome in this country a generation ago. Now we have found other markets it seems better for us that Britain stays in Europe. With or without Britain, the EC will be an important economic and strategic force in the world and British influence can help keep it on the right track. For all its farm subsidies, the community's policies are more open and liberal than those of non-member European states.
The attention that Mr Hague is paying to old Commonwealth connections will no doubt be interpreted in Brussels as another sign of Britain's dislocation. But it may also be a response to US priorities under President Obama. Britain previously would have done its utmost to keep the North Atlantic alliance uppermost in Washington's sights. But Mr Hague's Foreign Office has not resisted Mr Obama's "pivot to Asia". Britain, too, is finding renewed interest in the region.
Britain, despite recent and current recessions, is a richer country now than it was in the post-war decades when it withdrew its forces east of Suez.
It is unlikely to return as a military power in its own right but its diplomatic influence, alone or with Commonwealth partners, can give Britain a greater role. Mr Hague seems to be quietly reviving its global reach.