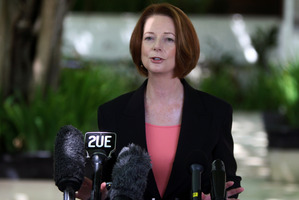 The holiday break has done good things for Labor.
At the start of the election year, voters appear to be ready to give Prime Minister Julia Gillard another chance, despite the drubbing she took in the polls as 2012 neared its end.
But it is also clear from the volatility of recent polls that Australians are far from set in their vote and are ready to reward or punish the parties and their leaders as events unfold.
What will be critical now is the trend the polls take over the coming months as they inevitably narrow ahead of the election Gillard is likely to call late in the year.
The first Newspoll of 2013, published in the Australian yesterday, reported a significant swing towards Labor, reversing the knocks the Government took as Gillard lost control of the political agenda amid a series of scandals.
These included a renewed Opposition attack on Gillard's probity and judgment in relation to long-standing allegations surrounding her actions in regard to her former partner and a union slush fund in her pre-politics career as a lawyer, 20 years ago.
She has also suffered from legal action - and now charges - against Liberal turncoat Peter Slipper, given the role as Speaker of the House in a deal to increase the Government's numbers.
In December the final Newspoll of the year showed Labor's two-party preferred vote crashing to 46 per cent, well behind the Coalition's 54 per cent.
But yesterday's results showed support for the Government had bounced back to its highest level since the 2010 election, recording a six-point surge in its primary vote to 38 per cent.
The Coalition's lead in the two-party preferred vote, which determines the outcome of Australian elections, was heavily pruned, narrowing to 51-49 per cent over Labor.
Gillard also leads comfortably as preferred prime minister.
Importantly, the poll was taken after Treasurer Wayne Swan dumped his long-standing promise of a budget surplus, fulfilling Opposition predictions and opening a new front for Opposition attacks on the Government's economic management.
Voters appeared to have brushed this aside, although it will remain a weapon for Opposition leader Tony Abbott as Australia's economy continues to suffer.
But the Government has already cut spending to the bone, and business leaders and economists had urged Swan to jettison his commitment to a surplus for fear of further damage to the economy.
Neither party is expecting anything but a tough campaign, and both have been playing down yesterday's poll.
Gillard said there was only one poll that counted - the election - and shadow treasurer Joe Hockey said he remained sceptical, especially for a survey made in the holiday break.
Both sides will be striving to carve out clear distinctions in policy and management, with Abbott already fighting to shed his negative "Dr No" image to focus on positive policies.