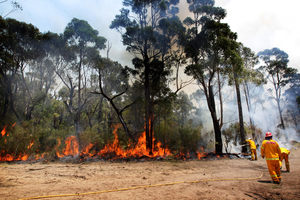 Extreme heat and lack of rain has made Australia a tinderbox. Photo / AP
"Indeed I guess there'll be more CO2 emissions from these fires than there will be from coal-fired power stations for decades." - Australia's acting Opposition Leader Warren Truss.
That statement spurred me to do some research .
Coal-fired power stations in Australia emit around 200 million tonnes of CO2a year. This does not include emissions from our coal exports.
Around 30 tonnes of CO2 per forested hectare were emitted by the Black Saturday Fires in 2009. Bushfires this year have so far burned around 130,000ha of forest, so have emitted nearly 4 million tonnes of CO2.
So, the bushfires this year have emitted an amount of CO2 equivalent to 2 per cent of Australia's annual emissions from coal-fired power.
The current bushfires must burn an area of forest greater than Tasmania to generate CO2 emissions equivalent to a year of burning coal for electricity.
And the current bushfires must burn an area of forest the size of New South Wales to generate CO2 emissions equivalent to a decade of burning coal for electricity.
However, the carbon emitted from bushfires is not permanent.
Eucalypt forest regenerates after fire, and will quickly begin to sequester from the atmosphere the carbon that has been lost from the current bushfires. The same cannot be said of coal-fired power stations.
Warren Truss' statement reflects a view that anthropogenic greenhouse gas emissions are insignificant relative to natural events such as bushfires that have occurred for millennia in Australia.
However, when one drills into the data, the current bushfires provide a stark illustration of the opposite: the amount of carbon that is emitted by bushfires is insignificant relative to our principle sources of greenhouse gas emissions such as coal-fired power.
Philip Gibbons is a senior lecturer at Australian National University.