PM rejects Opposition claims she acted unethically as a lawyer 20 years ago.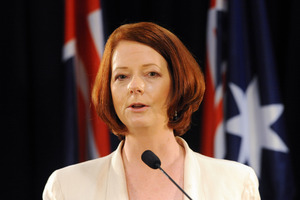 Prime Minister Julia Gillard has rejected suggestions that as a lawyer 20 years ago she misled West Australian authorities on the nature of an association she helped two union officials to register.
The federal Opposition called on Gillard to resign after the publication yesterday of a confidential transcript in which Gillard, formerly a lawyer with Slater & Gordon, talks about her role in relation to the Australian Workers' Union Workplace Reform Association.
The document shows Gillard admitted during a secret internal inquiry to writing to a West Australian government department to help overcome its objections to the creation of an association for her then boyfriend and client, union official Bruce Wilson.
Wilson and his colleague Ralph Blewitt allegedly used the association to siphon off money for their own purposes.
Both men have publicly denied benefiting from bank accounts linked to the association, but Wilson said this week that Blewitt had withdrawn cash and buried it in his backyard.
The revelation, contained in a document released yesterday after 17 years, comes after days of stonewalling by Gillard, including in Parliament, on the question of whether she had personally vouched for the association.
She denies any role in the association beyond giving legal advice to Wilson and Blewitt on registering it with the West Australian corporate affairs commissioner.
Opposition Leader Tony Abbott said the transcript showed Ms Gillard had given "false information to the West Australian authorities" because it was clear the association had union ties.
"For a senior lawyer to make false claims to an important statutory body like this is a very, very serious matter ... it's in breach of the law, I would think, and it's certainly very, very unethical," he said.
Senior Liberal Christopher Pyne said Gillard's position is "entirely untenable".
"[The letter] makes it entirely clear she was convincing the WA corporate affairs commission that it wasn't associated with the union.
"I'm not Hercule Poirot, but I can work out what's going on here."
Gillard said it was "demonstrably true" that the association was not a union. She said the transcript supported her account of the events over the past two decades and she had "nothing to do with the association once it was incorporated".
"The transcript also supports my account that I had nothing to do with setting up bank accounts operated by the association," she said.
Former Slater & Gordon colleague Nick Styant-Browne released the extract from an internal interview which mentions correspondence between the commissioner and the law firm.
The WA commissioner had written to the law firm seeking information on whether the association was in fact a trade union and therefore ineligible for incorporation.
Gillard said in the interview she had written back, on Mr Wilson's instructions, "arguing the case for its incorporation", the transcript read.
Parliamentary secretary Richard Marles said it was not remarkable that Gillard could not recall a letter she wrote nearly two decades ago.
"Let's take a deep breath about these so-called revelations coming out today," he told reporters. "That is what a lawyer would do under instructions from their client."
Labor frontbencher Bill Shorten said it was time for the opposition to give up the witch hunt and talk about things that matter.
- AAP