Romney's eclipse leaves field open for new challengers but party will have to fight to improve vote.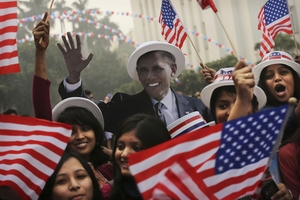 Let the bloodletting begin. The defeat of Mitt Romney, the Republican challenger in the presidential election, is certain to trigger soul-searching and recriminations from within the party that hesitated for months before picking the former Governor of Massachusetts to run against President Barack Obama.
Romney was never popular among the social conservatives who make up the party base, including Christian evangelicals who remain wary of his Mormon faith, which they see as a sect. Nor was he a natural choice for the budget-slashing Tea Party radicals.
However they finally embraced him after he promised he was "severely conservative" - only to become "moderate Mitt" after the convention at which he officially became the nominee.
Conservative analyst Norman Ornstein says the Republican Party is made up of at least two factions which in other countries would split. "But you can't do that in America if you want to win elections," he says of the party described by Democrats as "the party of No" for its obstructionism and negative approach to politics.
The Republicans' big mistake was to ignore the minority vote, in particular the burgeoning Latino population, according to Stuart Rothenberg of the nonpartisan Rothenberg Political Report. Romney's anti-immigration stance in the primary debates alienated an important sector of the electorate.
"Republicans would be wise to confront the obvious conclusion that they can't expect to win future presidential elections unless they start to improve their standing with non-white voters," Rothenberg wrote in Roll Call. "Whether that means making inroads into the African-American community or, more likely, gaining ground with Hispanics and Asians, the GOP electoral strategy must change as the nation's demographics do."
Was it Romney's policy flip-flops and lack of conviction that lost him the election? Certainly they led to him being abandoned by such establishment figures as former Secretary of State Colin Powell.
But conservative analyst Daniel Larison commented that "because Romney mostly ran a campaign about nothing, no faction in the GOP will accept that it was the one that contributed most to the loss".
Romney's wife, Ann, has said this would be her husband's last campaign. As for Romney's 42-year-old vice-presidential running mate, Paul Ryan, he will return to the House of Representatives. He may nurture presidential aspirations, but there are plenty from his generation who are waiting in the wings for the next presidential election in 2016, among them Governor Chris Christie of New Jersey.
And what of Karl Rove, the master strategist who put the campaign together, raising at least $80 million which was mostly spent on negative ads? He knew which way the wind was blowing after Superstorm Sandy. But by then it was already too late.