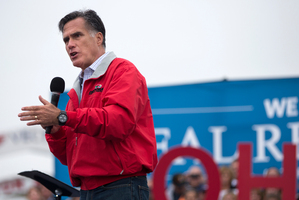 US Republican Mitt Romney has surged into the lead in opinion polls of the White House race, his reward for beating President Barack Obama in last week's first head-to-head debate.
As both candidates arrived in perennial kingmaker state Ohio, top Obama aides put a brave face on the president's slide, four weeks from election day, insisting they had always known his re-election bid would be tough.
A flurry of new polls on Tuesday showed the delayed impact of Romney's debate triumph in Denver.
For the first time since he accepted the Republican Party nomination, Romney topped the widely-read poll of polls conducted by the RealClearPolitics website, albeit by only 0.7 points.
And he led Obama by two points in daily tracking polls by Gallup and Investors Business Daily.
The pair were tied in another tracking poll by Rasmussen, with both on 48 per cent.
According to the Pew Research centre on Monday, Romney has a 49 per cent lead over Obama, who held 45 per cent support among likely voters.
Nevertheless, US polls predicting the result of the popular vote are only one reflection of the race and campaign chieftains are more interested in the eight or so swing states that will decide the election.
Obama is up in most battlegrounds, though full data is yet to emerge on local races following the debate.
And in a welcome respite for the president's camp, struggling to shake off the fallout of last week's listless debate performance, a CNN/ORC poll showed Obama holding steady in Ohio.
Obama led by 51 to 47 per cent among likely voters in the state, which no Republican has lost while winning the White House and which the Obama camp sees as a huge step toward the 270 electoral votes needed to win on November 6.
Romney's senior aide Kevin Madden told reporters the campaign was not getting carried away by Romney's sudden spurt, despite mounting excitement among Republicans, many of whom feared the race was slipping away from them.
"I think you can't put too much stock in this idea of momentum. It's a very elusive thing," he said aboard Romney's campaign plane.
"We still believe this is going to be a campaign that is very close, but we do see a lot of enthusiasm from a lot of our core supporters, and we see a lot of undecided voters that are taking a new look at Governor Romney."
Obama's camp insisted, with some justification, it has always predicted a tight fight, with the president running for re-election in an uncertain economic environment.
"We've always felt this race would be close," campaign spokeswoman Jen Psaki told reporters on Air Force One.
"We've always run this race like we're five points down. We know that there are going to be many ups and downs."
Obama planned a rally at Ohio State University, on the first day of early voting in the state, as Romney headed for Cuyahoga Falls outside Cleveland with New Jersey's populist, plain-spoken Governor Chris Christie along for the ride.
Romney also stopped in another close swing state, Iowa, seeking to build on his polling wave on a political map that still favours Obama, despite wobbles in his campaign.
The focus of the race is increasingly turning to Thursday's debate clash between Vice President Joe Biden and Romney's running mate Paul Ryan, which is seen as key to Obama's hopes of checking Romney's sudden surge.
Obama has tried to reassure disappointed Democrats that he is still hungry for victory ahead of his debate rematches with Romney on October 16 and 22.
"Listen, after the debate, I had a bunch of folks come to me (saying) - 'don't be so polite, don't be so nice."'
"But I want everybody to understand something - what was being presented wasn't leadership, that's salesmanship," Obama said in San Francisco on Monday.
At another event, Obama vowed: "I am pretty competitive and I very much intend to win this election."
- AAP