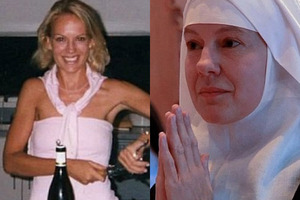 A Kiwi who dated British Prime Minister David Cameron has turned her back on life as a socialite in the US to become a nun.
New Zealand-born Laura Adshead was educated at Oxford University and Cheltenham Ladies' College, the Daily Mail reported.
But after a year-long relationship with Mr Cameron, Ms Adshead became a Benedictine nun.
The 44-year-old appears in a documentary, God is the Bigger Elvis, about the convent she joined.
It reveals how Ms Adshead, now Sister John Mary, turned to Christ after becoming lost in drink and drugs during years of partying in New York.
"I did think my life would progress on the normal tracks of meeting someone, marrying, having children, but that's not the path that God has led me," she said in the documentary. "I feel like I tried most things in life that are supposed to make you happy.
That journey took me down into alcoholism and drug addiction."
Now she worships at the Abbey of Regina Laudis in Connecticut.
She is a junior and is tasked with daily mopping of the chapel floors and tending cattle in the abbey grounds, the Mail reported.
Ms Adshead met Mr Cameron while studying at Oxford in the late 1980s. They became a couple in 1990.
Both worked at the Conservative Party central office before she became then-Prime Minister John Major's correspondence secretary.
She took the end of her romance with Mr Cameron hard and had to take time off work, the Mail said.
In early 1993 she applied to right-wing think-tanks in Washington DC, attended charity balls in New York and holidayed at the exclusive coastal Hamptons.
She joined the abbey after coming into contact with Christianity when she joined Alcoholics Anonymous in 2008.
"A monastic life, this is where the struggle is," she said in the documentary, which shows her swapping a fuchsia dress and pearls for a wimple. "There's no way out. You don't get to leave and go to a movie. You don't get distraction from all the human emotions. It's like this hothouse where things get worked out."
The main subject of the film is prioress Mother Dolores, 73, who, as Hollywood starlet Dolores Hart, kissed Elvis Presley when she acted opposite him.
Do you know Ms Adshead or her Kiwi family?
Email news@apnz.co.nz.
- APNZ