After his starring role last summer, the batsman is keen to broaden his experience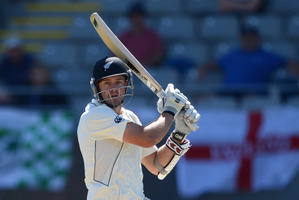 Two-thirds of Peter Fulton's 15 tests over seven and a half years have been played on home turf.
He has also had matches in South Africa (two), Australia (one) and England (two) and tomorrow flies off to prepare for his fourth different overseas test assignment, and first experience on the sub-continent, in New Zealand's two-test series in Bangladesh next month.
It will be an examination of Fulton's technique, as it will be for the other New Zealand batsmen, but the prospect is one the tall Cantabrian is relishing.
"The good teams, the good players are able to adjust to any conditions," Fulton said. "That's probably the biggest challenge you have in international cricket. All around the world, you get different conditions, different types of bowling attacks and that's what makes it exciting.
"There's always something new to come to grips with."
Fulton spent time in Tauranga with the Otago Champions League squad a few weeks ago, but more recently has been training with New Zealand teammate Dean Brownlie at Lincoln, trying as best they can to replicate what they expect to encounter in Dhaka and Chittagong.
They have worked on worn wickets, in expectation of low, slow strips in Bangladesh.
"All in all we're been pretty happy with the preparation Dean and myself have been able to get in."
Fulton leaves tomorrow with fellow test squad members Brownlie, Bruce Martin, BJ Watling and Trent Boult. They have a one-week camp in Sri Lanka en route to Bangladesh.
Other players, including captain Brendon McCullum, will arrive from Otago's Champions League squad, and still others from New Zealand A's trip to Sri Lanka. Ross Taylor is leaving New Zealand in a few days and Kane Williamson is travelling from England.
Fulton, 34, has enjoyed an Indian summer to his career. Discarded in December 2009, he seemed destined to play out his days in domestic cricket before getting a recall, first to South Africa, which was cut short by injury, then for England's tour in February-March.
A half century in the first test, 1 and 45 in the second gave no hint of the 136, 110 double he produced at Eden Park in the test where New Zealand fell one wicket short of a match and series victory.
Fulton was far from alone in his struggles in England in May - his test average is 29.04 - so now the task is to rebuild, and there's the incentive of a possible seven tests ahead of him before the end of February, with the West Indies and Indian visits to come.
An obvious goal is to still be walking out first come the second test against the Indians at the Basin Reserve in February.
"Hopefully that's the plan," he said. "In terms of tests for New Zealand over the last few years there's sometimes been a bit of a shortage so it's good to see a pretty busy test programme and it'd be nice to be part of that."
And Fulton is well placed to appreciate the importance of not peering too far into the distance, and trying to enjoy his cricket.
"It's been pretty tough at times to enjoy test cricket because there's so much pressure involved, and it's so demanding mentally.
"I pretty much take it game by game, and I guess that's probably one of the things that enabled me to have some success when I came back into the team. I looked at it almost as a little bonus to be picked, and tried to keep that same mindset of looking to enjoy it as much as I can."
New Zealand's Bangladesh tour schedule
Oct 4-6: v Bangladesh XI, Chittagong
Oct 9-13: First test, Chittagong
Oct 21-25: Second test, Dhaka
Oct 29: First ODI, Dkaha
Nov 1: Second ODI, Dhaka
Nov 4: Third ODI, Fatullah
Nov 6: Sole T20, Sylhet (subject to venue confirmation)