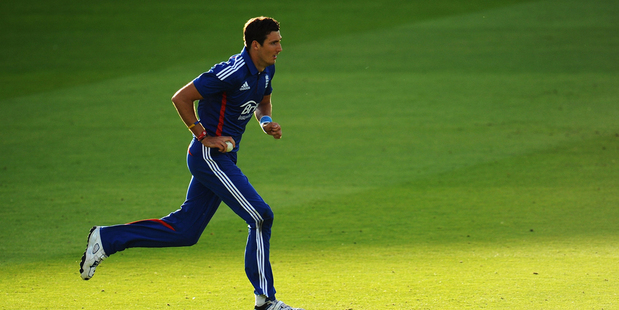 Steve Finn's wayward run-up to the bowling crease has created more interest than his on-field results this week.
The beanpole English paceman has developed a curious habit of making contact with the stumps at the non-striker's end with his leg during his delivery stride, which has become costly for his team during the past six months.
A player is allowed one offence without punishment but any subsequent infringement in the same series means the delivery will be deemed a dead ball and has to be re-bowled.
Finn has twice been denied a key wicket in games against India and South Africa previously and is on his final warning in the ongoing Twenty20 series against New Zealand after he clipped the stumps during game one at Eden Park last Saturday.
The 23-year-old, who stands around 2m tall, said he was looking at shortening his run-up in a bid to fix the problem that had seemingly crept up from nowhere.
"I don't know why it's happened," he said. "But that's the bottom of the matter. If I knew, I'd have eradicated it by now but it's about working towards not doing it and I'm not far off.
"There's a chance I might be shortening my run-up at some stage to try and eradicate it. I don't think it will affect my pace and I think it might give me more control and more bounce, so I think as I get closer to the crease, when I decelerate, my feet do cross over and that's probably what's causing getting closer to the stumps. When it feels like I'm in a straight line I'm not. But again, I think by shortening my run-up it could potentially help that but with the amount of cricket that we play it's about getting the timing right."
Finn said he would need a solid month to tinker his run-up but given the heavy schedules the top international sides play they rarely get such a break from the game so the change would have to be gradual.
He didn't know whether his shortened approach to the crease would make an appearance in tonight's Twenty20 series-decider against New Zealand at Westpac Stadium in Wellington.
Despite the odd indiscretion at the bowling crease he didn't feel like he was out of touch with ball - as evidenced by when he took 3-39 at Eden Park last Saturday when England claimed the first game of the three-match series.
"I feel in good rhythm, I feel as though I'm bowling well, I feel as though I'm bowling a heavy ball and that's all that matters."
New Zealand skipper Brendon McCullum was asked for his thoughts on the matter of another Finn offence being called a dead ball, meaning a player could be given a reprieve if Finn was to dismiss them but made contact with the stumps on the way through the crease.
"It's not for me to comment on. They're the rules so that's how it sits at the moment and I'm sure that will continue to be assessed as we go along," McCullum said diplomatically.
- APNZ