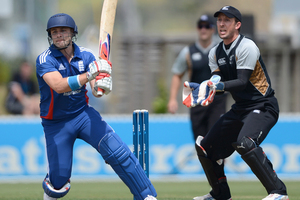 The New Zealand XI squared their two-game series against England with a last-ball three-wicket win at Cobham Oval today.
Chasing 171, Canterbury bowler Matt Henry sealed the victory off the final delivery of the game, from seamer Jade Dernbach, hitting it over mid off to the fence.
The New Zealand XI finished on 171 for seven, the standout innings coming from lefthander Tom Latham, who blazed 64 off 38 balls.
Earlier openers Anton Devcich and Hamish Rutherford got the run chase off to a strong start and both made brisk thirties.
A late stumble, in which three wickets fell in seven balls made the conclusion exciting before Henry finished the job.
lHaving been sent in, England reached 170 for five as the New Zealand XI bowlers did a tidy job for much of the innings.
An 87-run stand for the fifth wicket off 50 balls by Eion Morgan and Jos Buttler (crrt) late on put some substance into England's innings in their innings of today's T20 match against a New Zealand XI at Cobham Oval.
Buttler followed his half century in yesterday's game with 51, off just 30 balls before being caught at long on off the penultimate ball of the innings.
Morgan then brought up his 50 with a six over mid wicket, from only 28 deliveries, as Neil Wagner's over went for 23.
Earlier opener Michael Lumb made 45. Captain Andrew Ellis, spinner Nick Beard and, until his last over, Wagner, were the pick of the New Zealand XI attack.
The first T20 in the three-game series is at Eden Park on Saturday.

ENGLAND v NEW ZEALAND XI
T20
(Whangarei)
England
M. Lumb c Broom b Wagner 45
A. Hales run out 4
L. Wright c Rutherford b Ellis 11
J. Bairstow lbw b Ellis 2
E. Morgan not out 51
J. Buttler c Bracewell b Wagner 51
S. Patel not out 0
Extras (3w, 3lb) 6
Total (for 5 wkts, 20 overs) 170
Fall: 24 (Hales), 56 (Wright), 61 (Bairstow), 77 (Lumb), 164 (Buttler).
Bowling: M. Henry 4-0-35-0 (1w), D. Bracewell 4-0-39-0, N. Wagner 4-0-38-2 (2w), N. Beard 4-0-28-0, A. Ellis 4-0-27-2.
New Zealand XI
H. Rutherford c Hales b Patel 30
A. Devcich c Bairstow b Tredwell 33
T. Latham c Wright b Broad 64
N. Broom c Tredwell b Broad 16
C. Munro c Broad b Finn 4
L. Ronchi c Lumb b Broad 12
A. Ellis not out 3
D. Bracewell b Dernbach 1
M. Henry not out 3
Extras (1b, 2nb, 2w) 5
Total (for 7 wkts, 20 overs) 171
Fall: 58 (Rutherford), 81 (Devcich), 123 (Broom), 143 (Munro), 162 (Ronchi), 164 (Latham), 166 (Bracewell).
Bowling: S. Finn 4-0-44-1 (2w, 2nb), S. Broad 4-0-24-3, J. Dernbach 4-0-38-1, S. Patel 4-0-20-1, J. Tredwell 4-0-44-1.
Result: New Zealand XI won by three wickets.