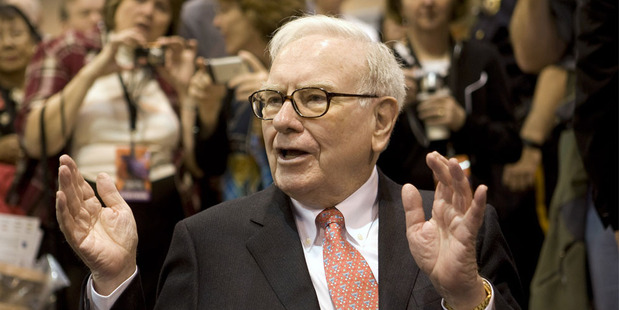 Upstart New Zealand life insurance company, Partners Life, has invoked the hallowed name of Warren Buffett in its latest release to market.
Buffett, or to be more accurate, his company Berkshire Hathaway has taken on some of Partners Life reinsurance risk that is primarily offloaded to French firm SCOR.
In the official jargon Berkshire Hathaway along with another global reinsurance firm, Partner Re, have been added as "retrocessionnaires" to the Partners Life reinsurance agreement.
As this was my first encounter with the word I had to look up the meaning of 'retrocessionaire', but essentially it just refers to reinsurance for reinsurance (re-reinsurance?) - another layer of offloaded risk.
This is no doubt good news for Partners Life but the true extent of Berkshire Hathaway's exposure to the untimely deaths of New Zealanders is pretty hard to gauge from the release.
And it's almost certain that the deal doesn't reflect a personal endorsement for Partners Life from the great Buffett, as some lazy trade publication headline implied.
In a PR sense, though, the association with Buffett has a more pleasant aroma than Partners Life's previous celebrity hook-up last month with Hugh Hefner of Playboy fame.
As the Herald reported Partners Life had scheduled a trip to Hefner's Playboy Mansion for its 2014 advisers conference, promising a dinner party "like no other" at the bunnies residence.
Sadly for the advisers in question Partners Life dropped the Playboy Mansion event off the agenda. Perhaps if Buffet had been an after-dinner speaker, the Mansion moment could have gone ahead...
Of course, Buffett and Hefner have been linked together before, but only in this trashy, GFC-era story with the awesome headline 'Economic crisis forces hot women to lower standards; will start dating lower status men'.
"... competition for true alpha males - that is, ultra wealthy and powerful men like Warren Buffet, Hugh Hefner and A-Rod - has become so fierce, hot women will still be clamouring for the 'new' low status males out of desperation," the story claimed.
As the economic crisis has eased a little since then, Buffett's attraction to hot women may have lessened too. Other effects of the GFC linger on, however, such as the introduction of more rigorous capital buffers for financial institutions, including New Zealand insurance firms.
The Reserve Bank of New Zealand, which assumed responsibility for the insurance sector in 2010, is in the process of licensing insurance companies who must meet tougher capital requirements.
Insurers have until September 7 this year to comply with the full licence conditions. The latest RBNZ list of insurers includes Berkshire Hathaway and Partners Life... amongst others.