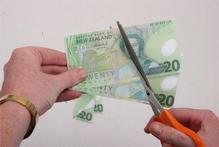 The glut of finance company stories in the press this week suggests the denouement is at hand of a process that begun in earnest with the collapse of Provincial Finance in June 2006.
Just today, for example, without trying too hard I chanced upon four stories, here, here, here and here in the New Zealand Herald all addressing, one way or another the subject of finance companies - I guess this one makes it five.
Even The Listener joins in the media party this week with a cover splash headlined 'Greed: how finance companies fooled us' (or something like that, I thumbed through it while waiting in a Post Office queue without buying it).
The appetite for revenge or revelation is perfectly understandable, and the thousands of investors cleaned out by dirty companies might feel some satisfaction in seeing the likes of Rod Petricevic before the courts.
There may even be some residue of money returned to investors as the Serious Fraud Office and various finance company receivers sift through the damage.
The Listener did a pretty good job of itemising the finance company losses, and the story went to great lengths to apportion blame to just about everybody - managers, trustees, auditors, advisers, politicians, regulators - with one glaring exception: investors themselves.
Without detracting from the obvious systemic failings - yes, there was fraud, regulatory black holes, mis-management, hubris etc - not all finance company investors were hapless victims; there were plenty of warnings about the dangers of investing in finance company debentures well before the crash and early in the crisis, including this rather good one published in The Listener itself just after the fall of Provincial.
Perhaps no-one wanted to listen then.

David Chaplin