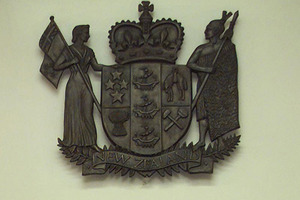 A Buller woman has been jailed for 10 months for receiving more than $63,000 in benefit payments she wasn't entitled to.
Anne-Marie Louise Quinn, 45, of Inangahua, pleaded guilty earlier this year to two charges of taking, obtaining or using a document for pecuniary advantage.
She was sentenced in the Westport District Court today.
Judge Paul Kellar said Quinn had 19 convictions for dishonesty offending.
Defence lawyer George Linder said she had since changed her life.
He said Quinn was keen to pay her debt to society and realised she had done wrong.
She had been in a "toxic" relationship at the time of the offending. Her partner was addicted to drugs and had forced her to continue working, even though she knew it was wrong.
She had been doing contract work for a company during her offending between May 2010 and September 2011 and wasn't sure whether she would get paid or when.
Her employment during her offending between April 2005 and May 2010 had also been insecure.
She'd never expected her work to continue from week to week but it had, Mr Linder said.
She knew she had to notify the Ministry of Social Development about the work but was under pressure from her partner, and suffered anxiety, depression and a gambling habit.
She had now sought help for those things. She'd left the relationship, stopped gambling, and had made every endeavour to change her life since she came to the West Coast almost two years ago.
Mr Linder disputed a section of the pre-sentence report, which said Quinn showed little remorse for her offending.
Although the pre-sentence report recommended imprisonment, it went on to say a Rangiora address put forward would be suitable for electronic monitoring, he said.
A letter from a resident at that address said that as well as serving home detention there, Quinn could enable the resident to study and eventually go back to work.
Mr Linder suggested Quinn serve her home detention and do community work.
He said she had no illusions about the likelihood she would go to prison and had packed a toothbrush.
Judge Kellar said the maximum penalty for each charge Quinn faced was seven years in prison.
On signing her benefit application she'd agreed to advise the ministry of any change in her circumstances that may affect her entitlement.
As part of information-matching with the Inland Revenue Department, it found she had started work in April 2005 and again in May 2010.
As a result she'd received overpayments of $63,046.44. A big portion of that was made up of sickness benefits.
The purpose of sentencing was to hold her accountable, promote a sense of responsibility, and acknowledge the harm in defrauding the taxpayer and undermining the system.
Her criminal history painted a sad picture of dishonesty offending, including shoplifting and misleading a social welfare officer, Judge Kellar said.
He sentenced Quinn to 10 months in prison.