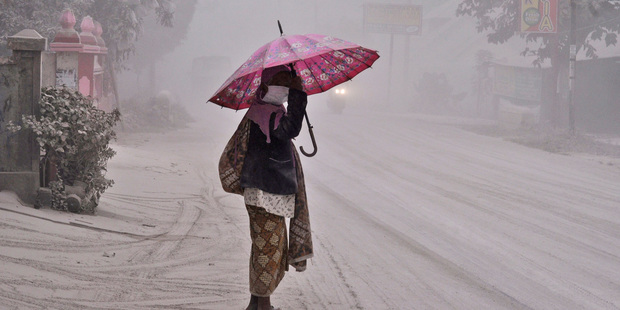 A woman walks on a road covered with volcanic ash following an eruption of Mount Kelud, in Yogyakarta, Indonesia. Photo / AP
Two people have been crushed to death on the Indonesian island of Jakarta after a volcanic eruption blanketed rooftops with rocks and ash, causing homes to cave in.
The man and woman in their 60s were killed in two separate homes in the sub-district of Malang on Java, where Mount Kelud spectacularly erupted on Thursday night.
"The homes were poorly built and seemed to have collapsed easily under the weight," National Disaster Mitigation Agency Spokesman Sutopo Purwo Nugoro said on Friday.
Booms from the mountain could be heard 130 kilometers (80 miles) away in Surabaya, the country's second-largest city, and even further afield in Jogyakarta.
The 1,731-meter (5,680-feet) Kelud had been rumbling for several weeks.
Ash covered the ground in both cities and was still falling, according to witnesses and accounts on social media. TV footage from towns closer to the peak showed farmyard animals covered in ash.
Three international airports have been closed after the volcano erupted, hurling red-hot ash and rocks. Transport ministry spokesman Bambang Ervan said Jogyakarta, Solo and Surabaya airports were closed due to reduced visibility and the dangers posed to aircraft engines by ash.
Flights from Australia to Bali, Jakarta and Phuket have also been cancelled.
Qantas has delayed until Saturday its services to and from Sydney and Jakarta, affecting flights which were both due to depart on Friday.
QF41 was meant to depart Sydney at 2.25pm AEDT on Friday but it will instead leave at 10am on Saturday while QF42 from Jakarta now leaves at 7.45pm on Saturday instead of on Friday night as initially planned.
The ash cloud has also altered flight paths from Australia to Singapore, a Qantas spokeswoman told AAP.
Meanwhile, rival Virgin Australia has cancelled Friday flights to and from Phuket, Denpasar in Bali and the Australian territories of Christmas and Cocos islands.
Muhammad Hendrasto, head of the country's volcano monitoring agency, said the mountain in East Java province erupted violently about 90 minutes after authorities raised its status to the highest level.
Officials late Thursday urged about 200,000 people living in 36 villages within 10 kilometers (6 miles) of the crater to evacuate. It was unclear how many people heeded that warning, though thousands fled when the blasts began.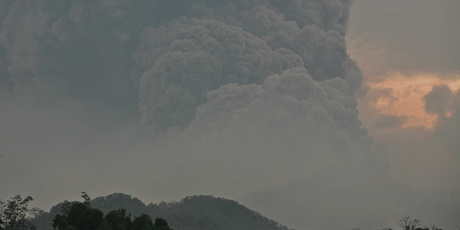 Kelud is among about 130 active volcanoes in Indonesia. The archipelagic nation is prone to volcanic eruptions and earthquakes because of its location on the so-called "Ring of Fire" a series of fault lines stretching from the Western Hemisphere through Japan and Southeast Asia.
Due to its population density and fertile soils that volcanic slopes provide, hundreds of thousands of Indonesians live close to active volcanos. They have learnt to live with the rumblings, and frequently ignore orders to leave.
The last major eruption at Kelud was in 1990, when it kicked out searing fumes and lava that killed more than 30 people and injured hundreds. In 1919, a powerful explosion that reportedly could be heard hundreds of miles away killed at least 5,160.
Earlier this month, Mount Sinabung in North Sumatra province erupted as authorities were allowing thousands of villagers who had been evacuated to return to its slopes, killing 16 people. Sinabung has been erupting for four months, forcing the evacuation of more than 30,000 people.
- AP