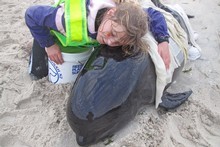 The 49 pilot whales which died after a mass stranding on the Far North's Karikari Beach have been buried without scientific analysis.
Scientists are keen to study stranded whales in the hope of finding out why the creatures beach themselves, but that can clash with Maori values.
Kaumatua of the two Ngati Kahu hapu on the Karikari Peninsula, Te Whanau Moana and Te Rorohuri, decided the animals would be buried without dissection or the removal of organs.
Forty-five were buried in the dunes behind Karikari Beach, in a historic burial ground, after a service on Sunday.
Four whales were euthanised at Maitai Bay after restranding or because they were distressed and could not be persuaded to swim out to sea.
Rescuers feared their calls could bring the others back. They were buried at Maitai Bay yesterday.
Kaumatua Alan Hetaraka said scientists could take DNA samples, "but we don't want [the whales] to be chopped up. It doesn't fit with our culture".
The former marine biologist said his scientist head told him to let the experts take their samples, but his cultural heart told him to bury them intact.
Mr Hetaraka said it was not the first stranding at Karikari Beach - 101 pilot whales stranded in the same area in 1997 - and he doubted the cause would ever be fully understood. He believed pollution could play a part.
- APN News & Media