Countless Indian families are eking a living by sifting gold dust from jewellery industry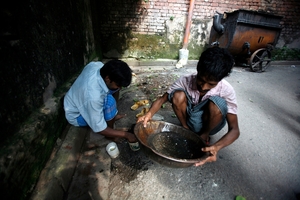 Twice a day, every day, Gauri Parmar picks up her broom and goes out to sweep for gold. She cannot actually see the tiny particles of gold dust settled in the gutters and streets around Ahmedabad's goldsmiths' district, but she knows they are there.
She sweeps first thing in the morning, and then again at 10pm when the crowds have cleared. By collecting the dust, treating it with acid and selling the gold back to the jewellers, she has been able to scrape enough money to raise her two children alone.
"I have been doing this for 25 years," Parmar, 49, said proudly, sitting on a bed in her home. "My son just completed his chartered accountancy examinations."
She is part of an enterprising community of dhul dhoyas, or dust-washers, who survive from the leftovers of the thousands of jewellers in Gujarat's largest city.
The work is dirty and sometimes perilous, and sweepers often face discrimination over their low caste, but it provides a livelihood to an unknown number of families.
For centuries, Indians have been beguiled by gold, hoarding it as insurance against difficult times.
Today, the country is the world's largest importer of the metal. This year, the federal Government raised import duty to curb purchases because they were adding to a widening trade deficit.
Industry estimates suggest there may be up to 500,000 people employed in the goldsmiths' trade in Gujarat. Many are migrant workers originally from poor districts in West Bengal. Their light-fingered dexterity and, more importantly, their willingness to work long hours for low pay, supposedly makes them more desirable than local workers.
Sapan Dey, 38, employs 10 young Bengalis in a small, second-floor workshop in the Ratanpole area of Ahmedabad.
A large leather apron surrounds the table on which the men work to collect larger scraps of gold which Dey recycles by melting them in a furnace. But once a month, a man called Syed Aslam comes and sweeps and swabs the rest of the workshop and takes away the straw mats. Aslam pays Dey for the privilege of doing so. "We take the mats and burn them and collect any gold or copper or silver," said Aslam, who has contracts with goldsmiths' shops across India.
He said the price he pays to Dey depends on the amount of work he perceives the shop is doing, whether it is festival time, when more jewellery was being made, or the wholesale price of gold. But sometimes his estimates are off: "Sometimes we get it wrong."
A few streets away in the Sahjanand market, a dark, grimy Dickensian block that is home to an alleged 6000 workers, Jitu Patni also pays for the right to sweep for gold. He and members of his extended family hold the contract for the second, third and fourth floors of the complex. Another family cleans the first floor. "We have to pay money to the factory because we are sure there will be gold in the rubbish," he explained.
In a sweltering warehouse on the roof, Patni, his two sisters and his in-laws revealed how they separated the various types of rubbish and then gathered the dust in tubs.
They also collected the water they used to wash the factory's corridors, allowing it to settle overnight and then further straining it through pieces of cloth to retain the sediment. They did not separate the gold themselves but sold on the sediment to someone else who performed the process.
For all the basic nature of the job, Patni had a sophisticated knowledge of the shifting price of gold, how much he should pay for his contract, and how much he should be paid by the man who collected the sediment.
"During the monsoon season the rates go down because the amount of gold you can recover is less," he said. "But in December, January and February the rates go up because that is the wedding season and the sales of gold [and the amount of jewellery being made in the factory] go up."
While those who work inside the factory are obliged to pay a fee to the owners, those such as Parmar, who sweep in the clogged streets and alleyways outside, can work for free.
Daya Patni, who shares the same name as Jitu Patni, is 69 and has been sweeping the streets near the Manek roundabout for years. He sells dust he collects to other people or else carries it home in sacks and uses water to create sediment that he can later sieve.
He said he left for work at 5.30am but that there were about 30 or 40 other sweepers who competed for the best spots. "There is an unwritten rule that whoever gets there first gets to sweep that spot," he said.
Parmar, who has been widowed for more than two decades and who lives close to Patni's small home, is among those sweepers who actually process the dust themselves. The method is complicated and dangerous and involves mixing the collected sediment with acid, adding mercury, mixing in baking soda and then finally placing it inside a furnace.
The gold she produces and sells back to the goldsmiths' market is not 100 per cent pure, but she estimates she is still able to average between 10,000 and 15,000 rupees a month.
That she was able to send her son, Rohit, to college, and to help her daughter, Manisa, establish her own business, is a source of intense pride. "My husband died 22 years ago," said Parmar. "I needed to keep working to educate my son."

In numbers
• US$2.9b - Estimated value of gold imports in July, up from US$2.45bn in June. Demand is rising despite government attempts to curb purchases, which have helped to push the current account deficit to a record high
• 9 per cent - July's gold price rise, ahead of this month's festival season
• 20m - The number of people employed in the gold trade across India
• 20 per cent - India's proportion of the world's gold consumption last year, according to the World Gold Council
- Independent