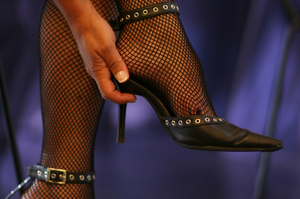 Twenty-one prostitutes have been found working illegally in Auckland brothels raided by Immigration NZ officials since the Rugby World Cup.
"Eight brothels have been visited to check for people who may be working contrary to their visa conditions and to remind premise operators of their obligations to ensure compliance with immigration law," said Immigration's acting general manager for intelligence, risk and integrity, Peter Elms.
At one Auckland brothel, Emily's 8, four prostitutes were found to be working illegally. They included one Malaysian who was on a student visa.
The brothel, in Waverley St, has been issued a warning letter.
The Herald understands another Auckland brothel, which last year withheld the passport of a Malaysian sex worker, was also raided.
Last June, a 28-year-old Vietnamese on a student visa to study English was found working as a prostitute there.
The 21 prostitutes found to be without valid visas included 10 from Hong Kong, seven from China, and others from Korea, Malaysia, India and Fiji.
Two women have voluntarily left New Zealand and others had been served deportation liability notices.
Immigration said at least one illegal sex worker had made a new application, and the agency had yet to make a decision on it.
Although prostitution has been decriminalised in New Zealand, it is illegal for people on temporary visas, such as visitors and students, to work in the sex industry.
Under the Prostitution Act 2003, only NZ citizens and people with residency can work in the industry.
"While there have been no prosecutions, we are monitoring this sector closely and will continue to visit brothels as part of our compliance work within the sex industry," Mr Elms said.
A staff member at Emilys 8 said the agency also took away the manager's cellphone and another belonging to a sex worker during the raid.
She said police had continued to visit the brothel regularly, and that was "badly affecting the business".
Brothel operators said they were aware of the immigration and prostitution law, but it was nearly impossible to check the immigration status of all women who applied for jobs.
"We operate in an industry where people don't use their real names and identities, and it is normal for us to respect the need to be discreet and the privacy of both our workers and clients," said one brothel manager.