Sporty hybrid and all-electric i3 due here in new year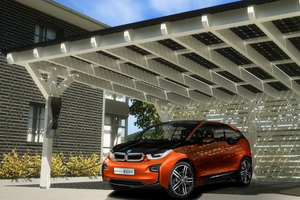 The BMW i8 roadster won the North American Concept Car of the Year award in 2012 and has been crowned again this year, now as the best production preview vehicle.
The Production Preview category recognises vehicles that are based on a model that has already been announced or planned for production. The awards go to the best production preview vehicle, concept car, concept truck/SUV, specialty concept, and most significant concept vehicle of each car show season. To be eligible, a concept vehicle must make its North American debut during the current model year's car show season.
More than two dozen professional automotive journalists from throughout North America serve as volunteer jurors.
The BMW i8 Concept Roadster with eDrive is an open-top two-seater. It is based on the BMW Vision EfficientDynamics concept study.
Its plug-in hybrid drive blends the sporting ability of a high-performance machine with the fuel consumption and emissions of a small car.
Under the banner of its sub-brand, BMW i, the BMW Group is developing purpose-built vehicle concepts and complementary mobility services to meet customers' changing needs.
As well as adopting intelligent technologies and innovative design, BMW i is pursuing an all-embracing approach defined to a large degree by sustainability.
The BMW i3 - previously called the Megacity Vehicle - will be the group's first series-produced car for urban areas to be driven by electric power alone. It is expected to arrive in New Zealand in 2014.
The i8 and the i3 models are based on a revolutionary construction concept known as LifeDrive architecture. An aluminium chassis houses the powertrain, and the passenger cell consists of high-strength, but extremely lightweight, carbon fibre-reinforced plastic (CFRP).
"Both cars have been designed specifically for their respective alternative drive systems. We used the innovative architecture and CFRP to cancel out practically all of the extra weight added by the batteries. For our customers, this means superior driving dynamics combined with significantly increased range using electric power," says Klaus Draeger, the BMW board member responsible for development.
After the presentation of the BMW i3 Concept and BMW i8 Concept, the BMW Group introduced the i8 roadster.
The combination of intelligent lightweight design and state-of-the-art hybrid technology gives it genuine sports car performance with a small car's fuel appetite.