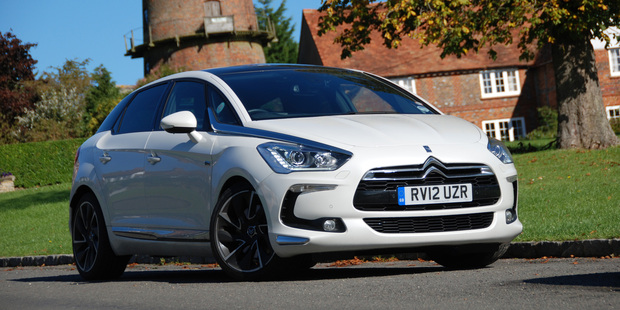 Citroen's DS5 might not be the hottest, priciest or most eye-catching car I drove in 2012, but it's the most interesting, at least in this diesel-hybrid format.
The diesel engine powers the front wheels and an electric motor turns the rears.
Power is 120kW at 3850rpm with 300Nm at 1750rpm working through a six-speed automated manual with stop-start.
At under 60km/h, you can select electric-only for silent and emission-free running; choose sport to fire the electric and diesel motors in tandem for maximum punch under brisk acceleration; or in slippery going use the 4WD mode to keep both powertrains working for better grip.
All that clever engineering is tucked into a body sitting atop a Peugeot 3008 platform, imparting a more compact footprint than the standard C5.
Most DS5 variants get a torsion beam rear suspension and MacPherson strut up front, but this hybrid uses a multi-link rear better suited to the interesting set-up.
The DS3, DS4 and DS5 cars are top-spec variants with an upmarket feel, in this case with the bonus of a thoroughly practical body that seems part sports wagon, part hatch, with coupe overtones and a dynamic look that belies the assumptions many will make on hearing the phrase "diesel hybrid".
My drive didn't allow the sort of back-road shenanigans a test might usually employ, but first impressions suggest it's not designed for spirited high-speed antics, and although the suspension ably absorbs bigger road bumps, it does transmit minor jiggles to the cabin.
The diesel proved refined enough while cruising, though the auto's reaction was slower at times than I'd like.
For vigorous driving, you'll revert to manual, salving reservations about top-speed power figures with the car's frugal delivery (our average close to the 4.1l/100km claim) and the hybrid's low-revs pull around town.
My drive involved a lot of stop-start semi-urban running and it's here the car excels, powered on electricity alone where appropriate and meantime fielding a stylish cabin with a whiff of cockpit about it, underlined by the sunroofs - three of them, with independent electric sunblinds so rear passengers can choose their own configuration.
All the controls and the materials that clad the interior have been chosen to impress, from the pop-up head-up display that changes colour when driving in electric mode to the massaging seat, lane departure warning and the auto headlights, the lit and chilled glovebox, roof-mounted sunglasses holders and cornering lights.
In New Zealand, the 1.6-litre DS5 is on sale for $59,990 but the diesel-hybrid has yet to be confirmed. It would be pricey but could still find buyers attracted by its special looks plus the eco and techno cachet this drivetrain imparts.