The money Ford's hybrid saves on fuel buys a lot of tourist trinkets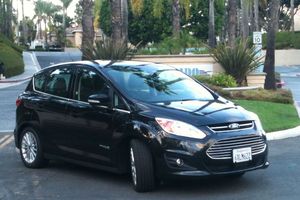 My friends' neighbour cycled past me as I unloaded the car, he did a u-turn on his retro bike and stopped in front of the rental vehicle I'd picked up at Los Angeles airport three days earlier.
"That the new Ford hybrid?" he asked. "What miles to the gallon are you getting?"
"Er, I'm from New Zealand - we do kilometres per litre there," I explained. "But I tell you what, it hasn't cost me a cent in fuel driving it around Los Angeles."
Having booked Avis' cheapest rental car, I had expected a small hatchback - and having signed the agreement that I would return the vehicle full of fuel, I had budgeted for petrol money for my LA holiday.
Instead, I was given Ford's new C-Max hybrid, which delighted me as not only did I have more money to spend but I also could test a car that wasn't available in New Zealand.
On a Ford Focus platform, the C-Max is known as a people mover in Europe, but Ford US added it to its fleet and popped in a hybrid engine so it could take on Toyota's Prius stateside.
Ford New Zealand had looked at it but decided the compact SUV Kuga fitted in that segment.
Ford US launched the C-Max hybrid in September and has just released the plug-in C-Max Energi, which has a larger battery pack for more electric-only driving. The C-Max hybrid uses a 2-litre petrol engine combined with a 1.6-kWh lithium-ion pack under the cargo area floor. This battery allows the car to drive 100km at a top speed of 136km/h using only the electric engine.
My rental was also the top spec SEL with leather, keyless start, active parking, rear camera and the MyFord Touch system. In the showroom it sold for US$28,995 ($35,767), placing it between the base Prius and Prius V in America.
What my rental did lack was built-in satnav - essential to navigating LA's vast roading system.
Having driven in LA and elsewhere in California before without electronic help, I borrowed the Go Live 150 world satnav system from TomTom NZ. This showed me the speed limit, which varies frequently on LA's freeways, and my car's speed. It also gave me plenty of warning of off-ramps - invaluable when you must negotiate eight lanes.
The trick to LA driving is to be confident, stick to the middle lane on LA's three lanes-wide city roads, and always tick the top insurance box for your rental.
I'd also driven Toyota/Lexus and Honda hybrids and I know the economy of these vehicles. So I was surprised by the thriftiness of the C-Max.
The first three days were spent driving in inner LA - including the famed Hollywood and Sunset Blvds - and my petrol gauge didn't move because the electric engine did all the work.
Heading out of LA to visit my friends with the bike-riding neighbour in Orange County's Laguna Niguel, and on to the freeway, the petrol engine took over and, despite the C-Max being a heavy car, it sat easily on 110km/h and had the power to overtake when needed.
With only 321km on the odo, it was hard to judge the C-Max fairly as automatic transmission was still adjusting to sudden acceleration when I was taking off from traffic lights and planting my foot on the freeway.
It was also small enough (thanks to the Focus platform) to sit in mall parking spaces, and the boot coped with my suitcases on the trip to LAX for my flight home.
Oh, and to answer the bike-riding neighbour, the C-Max hybrid did 47 miles per gallon.