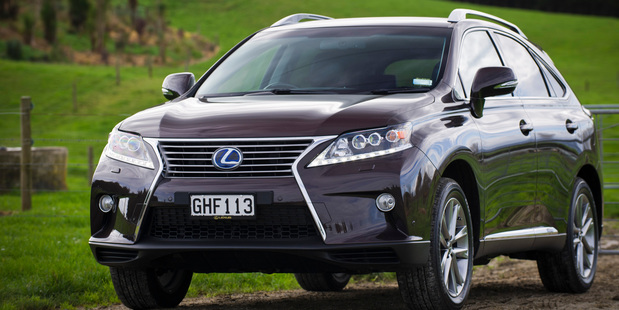 All the comforts ... and you can give the planet a wee cuddle too
There's no doubt Toyota is at the cutting edge of hybrid technology - but when it comes to its luxury Lexus brand, getting the mix right is a far more difficult proposition.
A small car like the Prius is quite simple - it's light and needs only enough features to be useful. Add a hybrid/petrol set-up and the promised fuel economy will follow.
The medium-sized Camry was more a case of evolution than revolution when it jumped on to the green train, but still has to make compromises - like not towing.
But a machine like the Lexus RX450h weighs nearly 2.2 tonnes, and carries - as the badge promises - a host of leathery creature comforts, a good turn of pace, reasonable handling for an SUV and many, many buttons to play with.
The RX crossover SUV has been around for over five years, and appeared with a hybrid-petrol powerchain in 2010. And it has to be said - the company has pretty much cracked it.
The 450h Limited here is essentially a mildly facelifted model, and mechanically it's almost the same beast, although a few dozen chassis welds have been added to tone down its fairly wallowy handling.
It has certainly worked, and although the $134,900 crossover isn't going to be beating sedans into submission, if not pushing too hard it's capable of getting through the curves. But if your needs entail sharper handling and still have to met by a big and comfy SUV, the newly-introduced F-Sport version (watch for a road test soon) will be a better bet.
The Limited spec is more focused on its plethora of goodies - including Bluetooth audio streaming, 10-way electric drivers' seat, steering wheel warmer, adjustable HUD, and one of the best lighting packages on the road. Most of the kit is controlled via Lexus' remote touch system - a mousey input device on the centre console that fits easily in the hand and is used to navigate the bright and well set-up menus on the large touch screen.
Although this is an all-wheel drive crossover, it's more designed for luxury road tripping than getting dirty, and with a solid drive system that uses a 183kW petrol 3.5L V6 Atkinson cycle engine in combination with two electric motors, one as a drive unit, the other as a generator.
When petrol and electricity collide, it gives acceleration surprising for its heft, hitting the legal limit from stop in just 7.8 seconds. And all with a meagre thirst displayed after our time with it of 9.2L/100km.
If you're sold on road-only SUV crossovers, and fancy giving the planet a wee cuddle as well, the 450h is a solid option with economy that can realistically be matched only by turbo diesels.