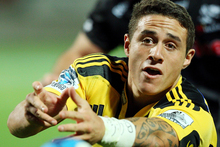 TJ Perenara's successful season came to a dramatic end last night when the halfback fractured his ankle in the Hurricanes' friendly victory over the Reds on the Sunshine Coast.
The 20 year-old from Titahi Bay is expected to be out of the game for 4-6 months, depending on his recovery.
The injury happened in the 78th minute of the match, won by the Hurricanes 36-7, when the halfback landed awkwardly in a tackle while scoring a try.
Perenara had x-rays following the match which revealed the fractured left ankle. He is undergoing surgery in Brisbane today and will return home at the end of the week.
"It is devastating for TJ to have suffered this serious injury when he has been in such good form for the Hurricanes this season,"coach Mark Hammett said.
"But TJ is a focused and dedicated player so we know he will work hard in his recovery to come back better and stronger."
Chris Eaton and Frae Wilson will now be the Hurricanes halfbacks for the remainder of the season.
"Like TJ took his opportunity this season when we lost Chris Smylie through injury, it's a chance for Chris and Frae to now step up," Hammett added.
Eaton has 25 caps for the Hurricanes, including 11 this season and 2 tries in 2012. He started last night's match and crossed the line for a third time in three consecutive games.
Frae Wilson is yet to debut for the Hurricanes.

- APNZ