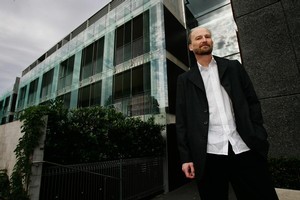 A new mass-housing development business is seeking to raise millions by paying 10 per cent annual interest to investors.
GAP Housing, of Anzac Ave, wants to develop dozens of cheap community houses in response to a government decision last year to free up the social housing market.
Martin Udale, ex-chief executive of McConnell Property, is chairman of the business, which wants an initial $2.5 million by Monday, but with big plans to grow.
"Over the next 20 years, GAP Housing intends to be a significant contributor to the demand for new homes in Auckland in order to contribute to the 169,530 homes required," GAP says.
Aaron Gascoigne, a GAP director, said that within the next year the business aimed to build 30 houses initially, mainly in Auckland, then 60 the following year.
About 16 parties were considering investing, he said, "but generally there's a mad rush in the last couple of days".
Gascoigne denied state houses were planned but GAP's call for funds has extensive information about Housing NZ and its "dramatic" shift in strategy to meet the chronic housing shortage.
Housing Minister Phil Heatley said Housing NZ would be talking to GAP about its issue document, which gave the impression there was a relationship between GAP and the state house owner. This was not the case, Heatley said.
David Whitburn, Auckland Property Investors Association president, said GAP's pitch was "an interesting investment memorandum and sales pitch".
"I will not be investing as the returns from prudently leveraged positive cash-flow property investment are far stronger."
GAP says houses would not be built before they were pre-leased or pre-sold and it is not guaranteeing the investment. But Gascoigne said he was confident GAP would get the money.
"Building consent figures are at an all-time low," Gascoigne said. "Factor in net migration ... running in excess of 12,000 persons per annum and the natural disaster that occurred in Christchurch - 21,000 displaced Christchurch people living now in Auckland trying to find a suitable housing solution - and it is easy to see that New Zealand has a fundamental housing issue."
In December Heatley said the Cabinet had accepted the Housing Shareholders Advisory Group recommendations, paving the way for third-party social housing organisations to fill the housing gap. Udale was on that advisory group.
Whitburn said GAP was asking people to surrender control to its own housing management arm.
"This opportunity will suit many hands-off investors," he said, citing a Centre for Housing Research report saying Auckland needed about 170,000 houses by 2026.
Auckland Unleashed, Auckland Council's spatial plan, estimated 330,000 houses would be needed in Auckland by 2040, he said.
"Good on GAP for taking the initiative and I hope it works well. There are waiting lists for Housing New Zealand and other government agencies and not-for-profit organisations like IHC, Women's Refuge, Department of Social Welfare, Ministry of Justice and at-risk youth who are facing funding challenges," Whitburn said.
"So there is a role for the private sector to become involved.
"I feel social housing should not be the sole responsibility of the Government and [the role for] companies like GAP will only increase as time goes on."
HOUSE GAP
* Housing NZ has 69,000 houses.
* 20,000 houses wrong for market needs.
* 3500 high-need households on wait list.
* That equates to about 10,000 people.
* Housing NZ wants to lease more houses.
* It might need 10,000 Auckland houses.
* GAP Housing aim to develop new places.
Source: GAP Housing information memo