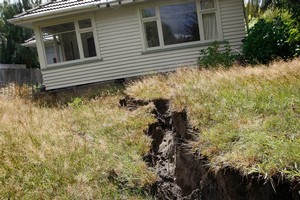 State house tenants escaping Christchurch are being asked to consider everywhere but Auckland to allow the Government options and not increase Auckland's waiting list pressure.
Nick Maling, Housing NZ Corporation communications and media manager, said demand had suddenly risen for Auckland state housing after the earthquake: 123 state tenancies or households had left Christchurch after the disaster of which 73 households were now in Auckland and 55 had been housed.
Christchurch tenants should call Housing NZ before shifting and hoping to get a place in Auckland, he said.
"Before people get on a plane, give us a call because we will look at options," he said, adding that some tenants were beneficiaries or state dependants so did not need to go to areas with high job supply.
The corporation manages 69,000 state houses and flats valued at $15.1 billion.
Maling said many state house tenants fleeing the disaster were now seeking urgent or emergency assistance which put them in the A priority list.
With most coming to Auckland, they were shifting to an area where the state housing stock was already under tremendous pressure.
As a result, Housing NZ had decided to delay its housing stock sales programme, using the money it receives to buy better places.
Over a three year term ending in 2012, the corporation wants to develop or build 1020 places, sell or demolish 887 places and lease 867 privately-owned places, its statement of intent says.
The influx of earthquake victims has also caused delays to the existing Auckland waiting list.
"We continue to house the most urgent or A cases. For others on the waiting list, it's longer than normal," Maling said.
"People coming from Christchurch have been coming in the last two weeks. It's a a question of how long that continues."
The 123 tenancies or households left their Christchurch state house or flat and made it known they were seeking state help in other parts of New Zealand, he said.
Of these, 73 tenancies households are in Auckland, 15 in the Waikato, 10 in the Bay of Plenty, two in the Hawkes Bay, seven in the Manawatu/Taranaki area, 11 in Wellington and five elsewhere in the South Island, Maling said.
Housing New Zealand said last month that staff from around the country were in Christchurch to assist the 6000 state households, many without power and water and in areas with significant earthquake damage.
That would cause problems for state house tenants in other areas of New Zealand.
"Some Housing New Zealand neighbourhood units outside Christchurch have closed temporarily so staff can work in Christchurch.
"This means we are unable to respond to the tenancy and maintenance service requests from the rest of our customers as quickly," the state corporation said.
WAITING LIST
State housing:
* A priority (severe housing need): 329 households
* B priority (significant housing need): 3522 households
* C priority (moderate housing need): 2661 households
* D priority (lower level housing need): 2277 households
Total need: 8789 households seeking homes
Source: Housing NZ Corporation