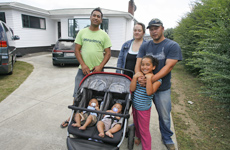 High house prices are part of the premium Aucklanders pay for being in a desirable place to live, says Housing Minister Maryan Street.
She points to a correlation between unaffordable houses, measured by a Demographia survey this week, and a list of the world's top 50 cities for "quality of living" by the Mercer consulting group last year.
Auckland boasted the world's fifth-best quality of living in the Mercer survey, based on its natural environment, economy, housing, education and health systems, public services, recreation, and social, political and cultural conditions.
Only Zurich, Geneva, Vancouver and Vienna ranked higher.
Auckland's houses also ranked 31st most unaffordable out of 227 cities in the Demographia survey, with the median house price of $445,500 being 6.9 times the median household income of just $65,000 a year.
This was much better than in the world's most unaffordable city, Los Angeles, where the median house cost 11.5 times the median income.
But it was worse than other cities of around Auckland's size except for Perth, where houses cost 7.6 times the median income.
A Herald sampling of 10 such cities found that even other "desirable" cities such as the home of Disney World, Orlando, Florida, have house-price-to-income ratios of around 5 to 6.
The city closest to Auckland's size on the Demographia list, Columbus, Ohio, has a median house price only 2.8 times its median income. It is Ohio's capital and largest city with several leading universities and a high-tech defence industry.
Ms Street said the Government's top priority was to lift the income side of the house-price-to-income ratio.
"But the other thing to remember is why places are popular," she said.
"Auckland, for example, is popular because in very many respects it's a lovely place to live. It's beautiful and it has an attractive kind of lifestyle, so those sorts of places will always be in high demand, and that links into the whole argument about our need to provide more affordable houses in the Auckland area.
"The same thing is true in Nelson and Queenstown, which are two other areas that are really struggling under the lack of supply of affordable housing, particularly for young families."
A co-author of the Demographia survey, Christchurch property developer Hugh Pavletich, said the survey showed that house prices were correlated with zoning restrictions which tried to stop urban sprawl.
Fast-growing US cities such as Atlanta, Houston and Dallas-Fort Worth all had house-price-to-income ratios of less than 3 because they did not try to stop fringe development.
The Reserve Bank also told a parliamentary inquiry into housing affordability last year that "relaxing urban fences" to increase the supply of houses would be a better response to the house price crisis than "schemes which increase demand".
The Government's main response so far is an Affordable Housing Bill, now before a select committee, which would allow local councils to require developers to include cheap housing in new developments.
Ms Street said Housing NZ was also including affordable housing in new developments on former Defence land in Hobsonville and Papakura and at Weymouth and Tamaki.
She said allowing open slather on the city limits would have undesirable social effects.
"If we are going to have suburbs created at the outer rims of cities and promote them as the suburbs for affordable housing, then we are creating enclaves of lower-income people, and I don't believe that has a desirable social outcome," she said.
"We need to get smarter at intensifying housing but also mixing up communities so that there is a mixed range of tenures within any urban development."
Life's a struggle on the kind of street where you can still buy a house on Auckland's average household income.
Danielle Wilson and Tony McBride, both 23, earn $65,000 between them - exactly the region's median household income, according to this week's Demographia survey which found New Zealand house prices the least affordable in the Anglo-Saxon world.
But if they had to borrow 90 per cent of the median Auckland house price of $445,500, paying 9 per cent interest over 25 years, their mortgage payments would be $3337 a month - more than three-quarters of their combined after-tax income.
So last year they settled for a two-bedroom house in Manurewa for $255,000, which costs them only $1800 a month.
"Our house was the price it was because it was rented," Ms Wilson said.
"There was a car in the backyard filled with rubbish. The trees were overgrown. The house had brown wallpaper and green carpet, which stank.
"We pulled it up and it had polished floors underneath. We have been cleaning out all the section, cutting out the overgrown trees which were growing into the guttering, and fencing it. We are going to do it up as we can."
The street they have bought in, Tawa Cres, is in the older part of Manurewa built in the 1960s, a street of quiet, modest houses and certainly not a slum.
Dylan Turner, who owns the L.J. Hooker franchise in Manurewa, says he has "plenty of houses" on sale at $250,000 to $350,000.
"On the average wage they can still pick up a nice house but they have to come out this way," he said.
There are risks. Mr McBride's car was stolen in his first fortnight in Tawa Cres.
"But the neighbours are really friendly," Ms Wilson said. "They are the kind of neighbours you can rely on to come across if your alarm goes off. Everyone knows each other."
A few doors down the street Andy Giffney, 67, had his fishing rod and tools stolen, but he feels safe.
"People are very friendly. They always wave and say gidday," he said.
But even here, people are struggling to afford a house of their own.
Across the road from Mr Giffney, three adults and six children have been renting a three-bedroom house for $380 a week. They were moving out yesterday to stay with another relative because the rent was going up to $400.
The two men, Raymond Kata, 31, and his cousin Simote Lokotui, 25, both work six to seven days a week at a local wrecking yard but can't afford to buy houses.
"If you've got more kids, you're broke," said Mr Kata. He and his wife Toni have four children at home aged from 9 months to 9 years, plus one adopted out to Mrs Kata's sister. Mrs Kata also looks after Mr Lokotui's 6-month-old twins when he's at work.
"I'm not ready to buy a house yet - a few more years," Mr Kata said. "I'm still struggling till I get on my feet. The money isn't really enough. It just goes on rent, food, cigarettes, petrol, power, water and the kids - school clothes, shoes, school materials and that. It's too much."
Further up the street, widow Kusum Kumari and her eldest son bought their house four years ago but struggle to meet the mortgage payments of $1500 a month.
"My son is working hard to pay the mortgage, working part time as well," Mrs Kumari said.
"He has a full-time job as a panelbeater and spraypainter but it's not really good pay, so he finds cars and things like that and repairs them."
Her younger son, Ricky Pal, 25, and his wife Shimal, 23, are still renting because they can't afford to buy. Mr Pal had a carpainting business but it didn't go well and now he is looking for a job, while his wife works full time.
RENTAL PROPERTY TAX CHANGES EYED
Tax changes affecting rental property owners are back on the Government's agenda as it seeks to dampen sky-high house prices.
Housing Minister Maryan Street said the Government was pursuing "a multi-agency approach" to tackle house prices, which were labelled the world's least affordable in a six-country survey by consultants Demographia this week.
"I am keen to look at the whole raft of things, which could be tax treatment. That is not off the drawing board, that's for sure," she said.
Finance Minister Michael Cullen confirmed that officials were still considering "ringfencing" tax losses on rental properties, proposed by the Reserve Bank and Treasury report in 2006. The idea was dropped last year because other political parties opposed it.
The Demographia survey found that high house prices combined with high mortgage interest rates meant a couple on the median household income would have to put their whole income into a mortgage for 18.6 years to pay off the median-priced house in New Zealand.
The value of New Zealand houses has increased almost five-fold since 1991, when a previous ringfencing rule was abolished and landlords were allowed to deduct losses on investment properties off tax payable on their other income.
National Party deputy leader Gerry Brownlee, who chairs the select committee inquiry on housing affordability, said Ms Street's comments were "hot air and wind". The best thing the Government could do was to change the Resource Management Act and the Building Act, which loaded up to $30,000 on to the cost of each new house by requiring detailed drawings and planning reports.
By Simon Collins

Email

Simon