Ben Crawford gives some shady advice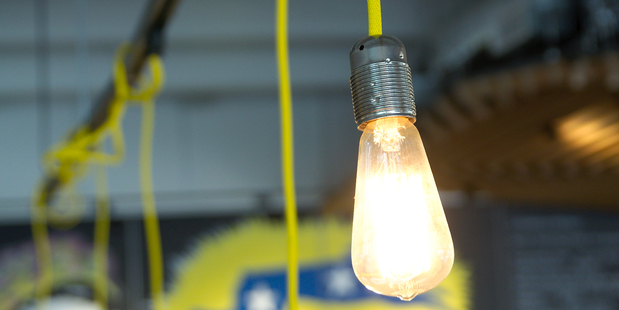 Looking back on it, I've been captivated by lights since I was a kid. Mum and Dad still have the lamps I made from old totara fence posts as a 12-year-old beside their bed. I'm not sure if it's because they genuinely like them or if they're just doing the polite parent thing, but I reckon they're still pretty choice.
Lights are wonderful objects that can transform a home in a number of ways, from their physical design through to their positioning in a room to create a variety of moods. I'm forever appreciating them. In fact, I have an entire Pinterest board devoted to the topic and I could've filled my soon-to-be-published book Built For Caffeine completely with lamps, shades and bulbs. But that would have been a tad monotonous, I suspect. Instead, to release just a smidgen of my pent-up-lighting-excitement, here are five shade ideas that caught my eye while out on my travels.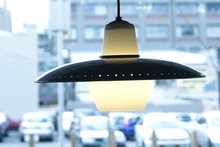 Mid-century cool
For many, design reached a peak during the 1950s and the owners of Customs Brew Bar in Wellington agree, creating a mid-century sanctuary to enjoy their fine coffee from. The metal shade hanging over the communal table is befitting of the era and an entirely different look to the more common industrial fittings seen in cafes throughout the country. Source your own from Mr Bigglesworthy.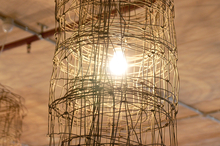 DIY mesh shades
When I walked into the Greenhouse in Perth I instantly recognised that their fabulous shades were made from fence netting, something we had plenty of on the farm growing up. With a handful scattered around the ceiling, it made for a unique, shabby-chic vibe, one that's super easy to recreate yourself - just roll up some wire mesh, and voila.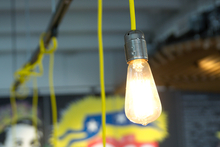 Bare bulbs with yellow flex
Who says you need a shade at all? It's not a new idea but I really like how the guys at Elizabeth Cafe & Larder in Tauranga have executed their naked bulb aesthetic. Yellow is used extensively throughout the cafe so the coloured flex ties in nicely. It has then been tied in knots or wrapped around a metal railing to create additional interest, which would look great at home. Choose the flex and bulb style you like from Plumen.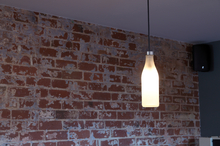 Milk bottle lights
The lights hanging above the counter of Dunedin's Diesoline weren't something I'd seen before. They're inspired by old Dutch milk bottles and finished in a brushed glass, creating a lovely soft light. Work with your electrician to recreate these from glass milk bottles by simply fixing a cap and wiring them up. Or buy the original product from Droog.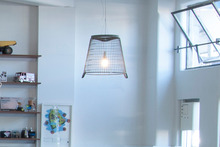 Rubbish bin shades
This is a simple but effective idea I spotted at Kokako in Grey Lynn. Take a metal rubbish bin of any shape and size, drill a hole in the bottom (if required) then thread through the light fitting to create an eye-catching shade that will still emit plenty of light.


A winner's thoughts
Week two down and four kids' bedrooms successfully delivered. Last year, Libby and I found the second week our toughest as the enormity of the challenge sank in. Plus, we loved our study but the judges didn't, which was hard to stomach after so much effort.
But we knew it was what the buyers thought on auction day that mattered and that's what perfectionists Alisa and Koan have realised, too. They have a long-term vision with a clear target buyer in mind. Despite being disqualified for bending the rules, Alice and Caleb's more mature styling will appeal to a wider range of families. The boys were lacking in the design stakes once again. I loved Loz and Tom's room, in particular their blackboard wardrobe doors. They've shown the most creativity so far and deserved to win this week.
The bathrooms are up next, which would take weeks to renovate in the real world. It'll be a logistical nightmare with plenty of stress. I can't wait.