Luxury features and gadgets pack the displays at this year's Auckland Home Show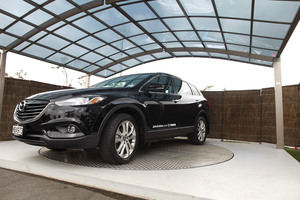 Luxury has returned to the Auckland Home Show with all the non-essential comforts and gadgets you could hope for.
Thousands are expected to flock to the event, which started yesterday and finishes on Sunday and showcases the latest products, services and trends in renovations, building, furnishing, home improvements and outdoor living.
Home Show spokesman Paul Blomfield said that when the global financial crisis hit, the event became "all about inexpensive renovations, kitset kitchens and energy efficiency".
"Soon after, the trend became about renovations, improving the value of the home for maximum capital gain. But this year it moves a step further to creating a dream home, with all the comforts, design touches and gadgets you desire."
Some of the gadgets on show this year include an outdoor sound system that can be hidden in the foliage and includes a subwoofer buried under the flowerbed and speakers camouflaged as rocks and mushrooms, for a full outdoor concert experience.
And car turntables, made by Electro-Mechanical Fabrications in Henderson, will see you never having to back out of your driveway again.
The large circular metal devices turn your car around for you and are sometimes seen in public carparks and apartment blocks.
They could become more popular if the Auckland Council pushes on with its intensification plans and driveways become tighter and steeper.
Another feature is a $35,000 bright green fridge designed like the bonnet of a Fiat Bambina.
Homes have started thinking for themselves with devices that detect your presence, open the garage door, and turn on lighting, heating, security and even towel racks for you.
Television-sized touch screens installed in the living room can also control audio, video, TV, MySky, security, lighting and heating.
The event at the ASB Showgrounds in Greenlane runs from 10am to 6pm each day and costs $16 online for an adult, $18 at the door. Children are free.