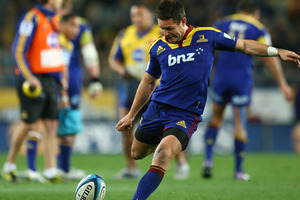 Belief was the difference between the Highlanders and the Blues on Friday night in Dunedin. And no-one demonstrated it better than Mike Delany.
The former Bay of Plenty first five-eighth returned after a call for help and directed the hosts' backline with aplomb.
A Delany penalty separated the sides 30-27 but, with prior close wins against the Chiefs (23-19), Crusaders (27-24), Waratahs (18-17) and Hurricanes (19-17), the Highlanders were always going to be strong in a clutch game.
Japan-based Delany made a seamless transition into a backline that has suffered all season at pivot. Injuries to Colin Slade (broken leg), Lima Sopoaga (shoulder) and Chris Noakes (ankle) have frayed their continuity.
Ironically, he could have been useful for the Blues who have also struggled in that position, although Gareth Anscombe - who had a sound game - appears to at least offer the franchise a potential long-term solution.
Delany turns 30 in June and, with a further season to run on his contract with Japan's Panasonic Wild Knights, his chances of adding to his one test cap (v Italy, 2009) are negligible - especially with Aaron Cruden and Beauden Barrett lining up to succeed Dan Carter.
Yet Delany's years as a seasoned professional came to the fore, underlining coach Jamie Joseph's urgency to get him in the squad.
His experience should be invaluable as they trek to South Africa for matches against sleeper outfits the Cheetahs and the Sharks, who occasionally turn on the sublime.
Delany was a rare exception to the rule that players who go to Japan never return hardened enough for the rigours of Super, or even provincial rugby.
He was omnipresent, causing havoc for the Blues with his hands and his boots.
Kicking seven goals from nine was one thing but the no-look pass to put Hosea Gear through a gap to create Shaun Treeby's try was masterful.
It was the type of move usually executed successfully towards the end of a season; not in someone's first game back in the country after a decent spell away.
He certainly had what is now familiar, snappy service from Aaron Smith, but those outside him responded. Strong tackling, seizing spilt ball to forge counter-attacks and a late high defensive catch were further strengths of Delany's game.
Joseph is a man familiar with Japanese rugby, which included a stint playing for the national team and he says Delany has not been softened by the perceived lack of quality rugby.
"Guys go to Japan for financial, not rugby reasons. The rugby quality is not what they are used to. I have found they're hungry to perform when they meet players of similar ability."
"Aaron [Smith] talked me through everything and his great pass helped," Delany says. "It's been a busy week with a lot to take in but it was great for us to notch up the early try on the back of a solid set piece.
"It set up our tempo for attack and gave me confidence for the rest of the match."
As for the bottom-of-the-table Blues, stand-in captain Luke Braid had the option of a handy shot at goal, rather than a lineout, from a late penalty.
Braid made the correct, but ultimately empty decision to venture for a win to aid their competition chances.
They prepare to face fellow strugglers, the defending champion Reds at Eden Park on Friday.