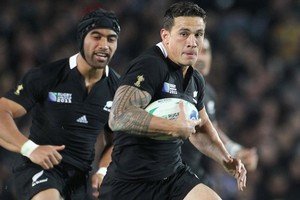 It was hardly surprising that Sonny Bill Williams shone in the Rugby World Cup's opening match between the All Blacks and the Tongans on Friday night.
His preternatural brilliance, in particular his offloading in the tackle to put players outside him into space, was thrillingly apparent in a physical if uneven encounter.
It was a reminder that the 26-year-old, only the second player to represent the country at rugby union after having done so in the 13-man game, has the potential to ooze the star power that Jonah Lomu brought to the 1990s.
The problem is that he doesn't seem to realise that his enormous talent has placed on his shoulders a weighty responsibility - not so much to the team, the game and the fans as to himself.
The capriciousness with which he treats the opportunities that come his way bespeaks a man seriously in need of career advice. And on the evidence of his recent off-field behaviour, his manager Khoder Nasser is not offering the best stewardship of the talent he is meant to be nurturing.
Fans of the NRL side the Canterbury Bulldogs have not forgotten the second-rower's dead-of-night departure to play union for the French side Toulon in 2008. All Black supporters must be anticipating a sense of Déjà vu as Williams enters this Rugby World Cup still hedging about whether he will re-sign.
Such coyness and inconstancy are infuriating enough, but what is more important is that he is doing himself no favours. In flirting with fortune, particularly by taking time off to engage in boxing, he is wasting his opportunities - and taking the risk that those in the position to offer him opportunities may eventually lose patience with him.
There is no questioning the fact that SBW is one of the most physically gifted players in the history of the game and that his skills fit perfectly with the style of open play at which the All Blacks excel. He needs to think hard about that. He is neither a great All Black or Kiwi league player yet. Committing to one of our core sports and excelling at it is the only way he will be remembered as anything more than a physical freak.