57 DALE RD, RAMARAMA
SIZE:
Land 2.4920ha, house 220sq m.
PRICE INDICATION:
$975,000.
INSPECT:
Sat/Sun November 2-3 at 12-12:30pm or by appointment.
SCHOOL ZONES:
Ramarama School.
CONTACT:
Contact Scott McElhinney, Barfoot & Thompson. Ph: 09 237 3125.
FEATURES:
Two-storey cedar home. Open-plan living-kitchen-dining; wetback fireplace heat pump, ceiling fan. Separate formal lounge, three bedrooms. Upstairs master bedroom with private patio. Double lock-up garage, shed, recreational spaces. Two large water tanks, extensive grounds, bush and orchard.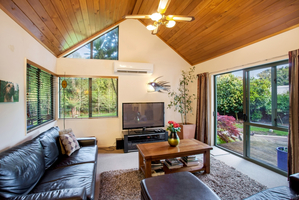 It's hard to imagine Earle Bond and Nicola Roberts ever slowing down. They've done an exhausting amount of work on their home and its grounds, but always in harmony with the natural surroundings.
Beside the house, a captivating bushwalk with 150-year-old nikau and even the occasional kauri, meanders past a brook with eels, and - occasionally - native trout. Earle has painstakingly cleared overgrowth along the way, and now, emerging into the bright, sunny orchard, its mature trees literally groan with fruit. Nicola declares proudly that they are practically self-sufficient.
"We have chooks here for eggs and grow vegetables in the raised gardens. There are mandarins, lemons and limes, apples, nectarines, plums and figs and, on the other side of the house, there's a big grapevine."
Further to the front of the property are ponds (with ducks), and a vast array of flowers and trees.
"We sometimes come out and eat on the lawn here," says Nicola, and both she and Earle laugh.
"We arrived home one day, before the gate
was installed, and there was a family doing just that. We pointed out nicely that this was private
land, not a reserve, and they jumped up to leave, but we said, 'no, they must stay and finish their picnic'."
Nicola has often thought that the property would be ideal as a wedding venue, while Earle has pondered the idea of installing a swimming pool.
"The whole property is great as it is but there's still lots of potential. If you wanted to make the house bigger, that's a possibility too."
From the moment they first turned into the tranquil, tree-lined, sun-dappled driveway eight years ago, they were hooked.
"It wouldn't have mattered what the house at the end looked like, we just knew that we wanted to live here," Nicola remembers.
As it happens, the cedar weatherboard house was an ideal space for this professional couple and their two very friendly, active dogs.
"Everything was overgrown and unloved but we could see immediately that it would be worth making an effort to bring the whole property back to life."
A cosy living area lies off the kitchen, with views through an open-plan dining space to native plants outside. A more formal lounge is at the other side of the front door and, on the same floor, are a good-sized separate laundry, toilet and bathroom, plus two double bedrooms.
Upstairs is a generous master bedroom with a bathroom and built-in wardrobes, plus its own little patio. "We often lie in bed and watch the birds in the trees!"
Still in love with this sleepy hollow, Earle and Nicola are moving just down the road to another home.
"The only problem is that when you look at this place through a buyer's eyes you remember how much you love it yourself," says Nicola reflectively.
Earle agrees.
"Someone is going to fall in love with it for sure. For us, it's just time for a change."