8 PEACH PDE, ELLERSLIE
SIZE:
Upwards of $1.6m. Auction 2pm Sept 18 at 4 Viaduct Harbour Ave.
SCHOOL ZONES:
Remuera School, Remuera Intermediate.
CONTACT:
Murray Wallace, Bayleys, ph 021 196 3000, Jaimee Ward 027 865 3116.
FEATURES:
Immaculate cedar weatherboard home.. One-bedroom self-contained with private entrance and courtyard. Double internal-access garage. Access to park-like surroundings, minutes to Southern Motorway and Remuera.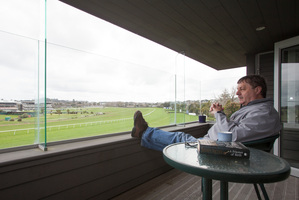 Kevin Algie is a character and he loves to spin a yarn. You can quickly see why his 13-year-old house was built in this particular spot. It's the horses. Kevin's been co-owner of well over 100 winners, a fact of which he's justly proud. He's prouder still that many of those triumphs were in a place that's practically part of his own garden, Ellerslie Racecourse in Remuera.
It's a handsome house, and an impressive size, too.
"It's too big now. I'm just rattling around in it," he says with regret. "It needs a family."
The architect-designed dwelling has a long, narrow layout but, don't be fooled, there's space to burn, with hidden storage all over the place.
An airy kitchen and living area opens to a private, sheltered courtyard with a notably peaceful feel. Perhaps that's because Kevin rakes the Zen garden faithfully every day.
There are little corners for quiet contemplation, yet masses of room for parties and barbecues.
The annual Boxing Day bash is legendary.
"All my friends come. I go off to bed and in the morning, half of them are still here!"
Beside the kitchen is a dining area. It's a room in itself, but is open at both ends. Next is a good-size lounge that opens to a simple paved patio. Here's the ideal spot for relaxing on deck chairs, catching the derby without paying an entrance fee.
Meanwhile, the kids can enjoy their enormous extended playground, where the lawn is deliciously soft and spongy.
"I'm a lawn person," Kevin laughs. "It's cost me a lot to get it looking this good!"
Back indoors there's a large double garage, with an elegant tiled floor. A well-appointed laundry is hidden in a spacious cupboard.
"I'm not much of a garage fan, so it's never had a car in it," Kevin offers cheerfully. "There's plenty of parking space outside, so you could turn this into another lounge if you wanted to."
To the side is a completely self-contained annexe, which he had built for his mother and late father.
"It's got everything you need. A mini-kitchenette, shower and toilet, and its own entrance and patio," he says of the bright, sunny space. "And, of course, there are racecourse views."
Outside, near the front of this area, on the left, Kevin has recently folded a little extra corner into his section.
"They [the racetrack] pulled down the steward's tower, because that part of things is computerised these days.
"I thought it might be a good place for new owners to put in a swimming pool."
Upstairs are three generous double bedrooms all with large, airy walk-in wardrobes. The master bedroom has an en suite bathroom and yet another outdoor relaxation area that's spoiled for views.
The main bathroom in the middle of the upper storey has a tub that's perfectly positioned for candlelit midnight soaks gazing up into the starry sky. "It's just amazing," he says.
Finally, there's a compact little office that could be left as it is, or converted to a nursery.
Somehow, it's not surprising to hear that Kevin won't be going far. He's bought a townhouse on the other side of the racecourse, and the only catch is that the Boxing Day bash will have to be down-sized slightly.
Kevin hopes the new owners at No. 8 will carry on the tradition there. He has really loved this home, and he's keen to see it move into a happy new era.