129 HAVERSTOCK RD, SANDRINGHAM
SIZE:
Land 733sq m, house 125sq m.
PRICE INDICATION:
CV $580,000 - will be higher. Auction 3.45pm, Sunday, April 21.
INSPECT:
Sat/Sun 1-1.30pm or by appointment.
SCHOOL ZONES:
Edendale School, Kowhai Intermediate, Mt Albert Grammar.
CONTACT:
Robyn Ellson, Custom Residential, ph 021 800 891.
FEATURES:
This Parade of Homes courtyard house was built in 1958 with north-facing aspect and contemporary style. Open-plan living and timber finishes inside; boardwalk and deck extends into large backyard.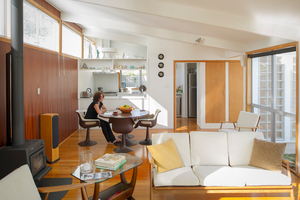 The last time the Government worried about housing affordability, it used mid-century creativity to engineer some healthy competition between construction companies. Throughout New Zealand, builders competed to build spec houses on Government-owned land, with a guaranteed buy-back if the houses didn't sell.
Around the country the resulting designs were exhibited in a Parade of Homes, attracting thousands of punters wherever they were held. In 1958, Auckland's fourth Parade unveiled 30 show-homes on Mt Albert's newly extended Haverstock Rd. Prize-winning builder P.A. Carmine shocked some people with his contemporary design, modelled on the decade's uber-cool Group Architects. Today's punters would be more shocked at the price: 3450 for a modern three-bedroom house (excluding section).
Fifty-plus years later, long-time Sandringham residents and design aficionados Janice and Richard Gourley wondered what was behind the forest of trees in a Trade Me photo. "The house found us, really," Janice recalls. "We love modernist design, but this had such a contemporary feel."
Mr Carmine's courtyard house stood out from its conventional neighbours, with its daring butterfly profile: two mono-pitched rooflines wrapped around a sunny central patio. "He really used the aspect of the land," says Janice. "We get all-day sun and all-night moon." Raised above the street, the views across Kerr Taylor Park and Mt Albert Grammar's grounds are impressive, too.
Back then, the Parade judges were excited by the walls of glass, uniting inside and patio into "one free-flowing space". Today, Janice concurs: "It creates another room. There's just so many different ways to live inside or out." At night, the patio glows, with moody shadows cast by the front door's Japanese-style entry bridge and sunken gardens.
In summer, folding doors and clerestory windows bring the breezes inside. In winter, sunshine streams into the soaring living room. "It's so cosy here, we don't light the fire until dark," says Janice. Previous owners installed glass block in the entry and bedroom wing that Janice reckons insulates and provides privacy.
With basics like joinery done - in proportions reflecting the modernist style - Janice and Richard were able to focus on polishing touches. "We wanted to be sympathetic to the house, with a modern take on the original," says Janice.
Richard captured mid-century sophistication with new mahogany panelling in the living room. In the efficient kitchen, Janice kept groovy features like the floating china cabinet and clerestory windows, highlighting original units with dramatic black, and introducing mosaic tiles. "We installed new cabinets in the same proportion as the old, with replica handles," she explains.
More mosaic tile features in the bathroom, this time the classic swimming pool blues of the 1950s. Throughout the U-shaped layout, they restored the original rimu timber floors. Richard also painstakingly re-finished rimu veneer on the clever twin wardrobes in the two largest bedrooms. The pitched ceiling and floor-to-ceiling windows in the master bedroom mirror the proportions of the living room across the courtyard.
From her breezy rear office, Janice can survey what she calls "the lifestyle block". The enormous backyard was previously home to just a rotary clothesline and a jungle. Much back-breaking clearing yielded years of firewood, prolific avocado and fruit trees, and another sunny living space. From the back door, a timber walkway and raised deck resemble a wharf and pontoon. "We've had some awesome al fresco lunches out here," says Janice. "Then people sit on the stairs and watch the lights come on around Mt Albert."
Janice and Richard have loved walking to Sandringham's nearby "little India" village or Westfield St Lukes. "We feel like we've been caretakers of this treasure," she says, "but now it's time to pass the baton."