724B REMUERA RD, REMUERA
SIZE:
Land 2838sq m, house 534sq m.
PRICE INDICATION:
$5.4 million.
SCHOOL ZONES:
Meadowbank School, Remuera Intermediate School, Selwyn College and close to independent schools.
CONTACT:
Terry King, ph 021 484 332, Diana King, ph 021 613 884, Remuera Real Estate Register.
FEATURES:
Architecturally designed five- to six- bedroom home in private, resort-style grounds with superb indoor-outdoor flow and separate granny flat above a three-car garage.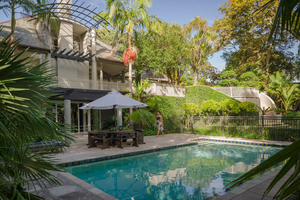 Luise Lockwood says this architecturally designed home on Remuera's northern slopes has given her family everything they've wanted and more over the past 14 years.
It's easy to see why.
The 534sq m home on a secluded, quiet site at the end of a right-of-way off Remuera Rd is a modern yet timeless masterpiece designed by renowned Auckland architect Simon Carnachan and built in 1996.
Luise's family, including sons Jack, 18, and Luke, 21, moved into the house in 1998 after shifting to Auckland from Palmerston North.
"We'd come from a large property and wanted something big enough, where the boys could grow up," she says. "We fell in love with this place the moment we saw it."
Surrounded by stunning 2838sq m grounds with mature subtropical planting, a full-size tennis court, a large swimming pool, and terraces and lawns flowing effortlessly off two of its three levels, the house feels like a secluded resort.
Despite the fact that it is one of four down the right-of-way, Luise says the property is totally private.
Over the past decade, Luise has cleverly landscaped the property with layered planting, including bangalow palms and sculptural evergreen shrubs complemented by deciduous trees, among them a majestic row of 150-year-old oaks that heralds the change of seasons.
The sheltered property has its own microclimate, a small stream at its base that runs into the Orakei Basin, and abundant birdlife, including kingfishers and wood pigeons that feed off the bangalow berries.
With five to six bedrooms, four living spaces, five bathrooms, a grand entrance foyer and a galleried stairway, the house could feel imposing. Yet its grandeur - including the double-height ceilings in the formal lounge and family rooms - combines effortlessly with a more domestic scale in most of the rooms that creates a homely, welcoming feel.
In the main living area, situated on the mid level where you enter the house, there are glass doors and tall bifold windows, which are covered by wide eaves that provide shelter from wind and rain, and mean the house can be opened up regardless of the weather.
"We had 120 guests here recently for Luke's 21st and it was completely effortless," says Luise. "This house will take a lot of people."
The home's mid level also includes a large kitchen with a butler's pantry, an open-plan dining space adjoining the formal living area, a large study or fifth bedroom, and an enviably big laundry that leads to a courtyard with a vegetable garden, fruit trees and a clothesline.
A staircase runs up the side of the front atrium on this level to four more bedrooms, including an enormous master bedroom with an internal Juliet balcony that overlooks the main living space below and through palm trees into the garden.
The two bathrooms on this level include a huge en suite off the master bedroom.
The lower level of the home is one large room with its own shower and toilet. It opens out to the swimming pool and would make a great media room or studio.
The house also has two large open fireplaces, and top-notch fittings and ample storage throughout, including beautiful built-in shelves and bookcases.
Above the internally accessed three-car garage is a self-contained flat that comprises a kitchenette, bathroom, lounge, bedroom and private patio.