4A SALISBURY ST, HERNE BAY
SIZE:
Land 640sq m (approx); house 281sq m (approx).
PRICE INDICATION:
CV $1.82 million. Tenders close April 10.
INSPECT:
Sunday 12-12.45pm.
SCHOOL ZONES:
Bayfield Primary, Ponsonby Intermediate, Western Springs College.
CONTACT:
Martin Dobson, Kellands, ph 021 376 952 or 300 4001.
FEATURES:
Architecturally designed home with two lounges, study, guests' powder room, spa and inground pool set in resort-style grounds.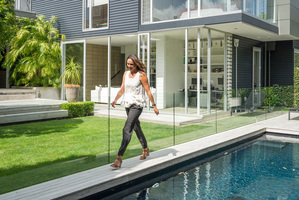 The Hornabrook family home was always destined to be full of surprises. For a start it has taken shape on the unseen back lawn of an early 20th-century Victorian villa. Thankfully, the builders back then sited that heritage home close enough to the street to allow this 21st-century home to showcase its contrasting style in complete privacy even if they could never have had any inkling of how families would live 100 years on.
When Anna Lundon and Mark Hornabrook bought this land, they engaged Nick Barratt-Boyes, of Studio Pacific Architecture in Wellington, to design an L-shaped home that hunkered down close enough to boundaries to create a central outdoor focal point that included split-level terraces, a manicured lawn and in-ground pool visible from almost every room.
The home they built eight years ago is a world apart from its neighbour, from its north-west orientation to its materials and is still as much a delight as it was then.
"Even when we're in the pool and we look back into the house, it still looks wonderful," Anna explains.
"This was the first house we built and, in hindsight, there's nothing that we would change. I feel as if we got it right first time."
Dark oak, polished concrete and carpeted floors, natural oak balustrades, stack-bonded honed concrete blocks, floor-to-ceiling glass doors, glazed panels and white painted walls have come together in a home that is easy to live in and to maintain.
Even visitors are in for a treat. The downstairs guest bedroom with its own en suite opens to the spa pool in a private courtyard adjoining the pool.
The upstairs bedrooms overlook the pool and its resort-style surrounds. The master bedroom at the corner is cantilevered with a small glass balcony so the glass doors on both sides open up for the views. A double set of roller blinds either shades or completely blocks out natural light.
Downstairs, the 3m stud in the stepped-down TV lounge enhances the sense of volume and scale.
Harry and Sophie were just 7 and 5 years old respectively when they brought their newfound school friends in to see their gigantic TV lounge.
"They used to call this room 'the giants' room' because of its height," says Anna. When the kids aren't here, they're dashing upstairs through the discreet doorway into the hall that has a cavity slider to close it off for winter warmth.
Throughout the entire house, adjustable glass louvres and clerestory windows add lightness to the spirit of the home.
One of Anna's favourite features is the window high above the rear wall of the dark oak and stainless steel kitchen that allows morning light to flood in.
"Even on a grey day it is a really light house," she explains. "When the sun is shining it just bursts with light. It is a really nice mix of design and functionality."
Important storage considerations have ensured this home's functionality as the children have grown into teenagers. The downstairs storage/coat cupboard includes baskets, shelves and bag hooks. The upstairs linen/storage cupboard has a wall heater installed.
Designwise, the dark-stained oak landing that is an extension of the stairs has become known as "the bridge". The adjacent glass floor panel that enables anyone upstairs to check who is at the front door was another fascination.
"The kids used to think it was like the Sky Tower because you were walking on glass," says Anna.
The Hornabrook family are moving to suit their changing family needs and they're not discounting the possibility that they may some day build another home with the same sort of timeless surprises that have made this home so memorable.