21 HERNE BAY ROAD, HERNE BAY
SIZE:
Land 1114sq m, house 260sq m (approx).
PRICE INDICATION:
Interest exceeds CV of $2.85 million. Tender closes 4pm, Tuesday, March 12.
INSPECT:
Sat/Sun12-12.30pm.
SCHOOL ZONES:
Bayfield School, Ponsonby Intermediate, Western Springs College, Auckland Girls' Grammar School.
CONTACT:
Chris Batchelor, ph 021 217 7026, Carl Madsen, 021 953 152, Barfoot & Thompson.
FEATURES:
Sympathetically enlarged villa with generous living spaces on north-facing grounds. Self-contained master suite, study/office, guest house and double garaging.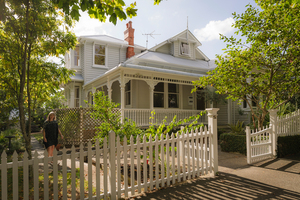 21 Herne Bay Rd, Herne Bay. Photo / Ted Baghurst
When Stella Brennan's parents married, they literally shared property in common.
When they met, Mervyn and Josephine had neighbouring houses in Herne Bay Rd, and after they married they removed one of them, joined the sections and enlarged the remaining villa.
When they met, Mervyn and Josephine had neighbouring houses in Herne Bay Rd, and after they married they removed one of them, joined the sections and enlarged the remaining villa.
It also allowed Stella's parents to concentrate on improving the villa, which dates to around 1906. The late architect Alan Paul designed and oversaw the extension at the rear and the addition of another storey.
"He specialised in villa alterations that looked like nothing had been done," says Stella, a video and installation artist.
"The top floor was done in the 90s and the back of the house in the 80s, but it has all been done in a way that is in the structure and style of a villa."
That dedication can be seen in the finials and fretwork on the newer part of the home and how the square bays on the ground floor have been repeated upstairs. The deck added outside the kitchen has a deep veranda roofed with bullnosed corrugated iron, in keeping with the home's age.
Stella says the improvements were all part of a 20-year plan her father had for the house and, as a lawyer, he was a stickler for detail.
"He was particular about replacing woodwork, which was quite hard in those days because there wasn't much around," says Stella.
There's still a stash of timber and joinery in the garage, along with a template for the fretwork.
"Because Dad grew up in the Great Depression, he never threw anything away," says Stella.
Even though the upstairs level was created in 1995, it still has rimu skirtings and sash windows beneath its cathedral ceilings. Mervyn and Josephine designed this level to be self-contained, with its own bathroom and kitchenette.
Downstairs, the home has the classic detailing of the time in its architraves, skirtings, board-and-batten ceilings and solid kauri doors. Arches in the hallway and a ceiling rose in the main lounge add more ornate elements.
At the front of the house are a bedroom and a small lounge, with fireplace, and further down the hall is the main lounge, a grand space with its square bay, open fire and a door out to the wrap-around veranda.
Solid rimu has also been used in the cabinetry of the kitchen, which is part of an open-plan space incorporating a dining area with French doors out to the deck.
On the other side of the house is a separate laundry, a bathroom, separate toilet and a bedroom with polished kauri floor.
A sleep-out at the rear of the house, with its own kitchenette and bathroom, gave Mervyn space to indulge his passion for model railways. It was also a great play space for Stella, who was fascinated by the wood-fired stove still there today.
"When I was young I used to spend a lot of time out here, firing up the stove and trying to make soup on it, not very successfully."
With its expanse of lawn and mature trees, the garden was the perfect setting for two wedding celebrations.
Now Mervyn and Josephine have both died, Stella says it's time to sell and she is resigned to the fact that new owners might differently reinterpret the house her parents strived to preserve.
"It's got a lot of scope, because it has really good bones."