20 TAUMATA RD, SANDRINGHAM
SIZE:
Land 674sq m, house 285sq m.
PRICE INDICATION:
CV $1.08 million. Auction March 13 at 7pm, unless sold prior.
INSPECT:
Sat/Sun 3-3.45pm.
SCHOOL ZONES:
Edendale Primary, Kowhai Intermediate, Mt Albert Grammar School.
CONTACT:
Anne Duncan, Anne Duncan Real Estate, ph 021 996 426; or Emma Duncan, ph 021 845 347.
FEATURES:
Large 1920s family home on Sandringham ridge is rich with original features including ornate staircase and leadlight windows. Includes self-contained one-bedroom flat and large section.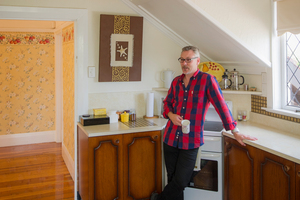 If you know Sandringham, you'll be familiar with this house on the corner of Taumata St and Duncan Ave. You've probably admired its distinctive presence from the street - the stucco walls, rich-orange roof tiles and the turret that many a passing child must have wished was their bedroom.
The home was built in the 1920s, in what Stuart MacKinnon, one of the current owners, likes to think of as Arts and Crafts style. The exterior is stucco over brick with a wooden internal frame, and the interior features handcrafted wood detailing throughout in the beamed ceilings, stairwells with cut-out hearts, the panelled doors and leadlight windows.
"Arts and Crafts is my take ... and it also has a hint of Tudor revival with the wood," says Stuart.
The home sits high on Taumata Rd on land that was part of a large farm from 1845 to 1910, before passing through the hands of different owners, but it wasn't until the 1920s that this home was built.
"A lot of people think this must have been the original farmhouse, but that wasn't the case," says Stuart, who shared ownership of the home with Jim and Elesia Ogg until Elesia died about a year ago. "This house was Elesia's passion and was very much a part of her family," explains Stuart.
"Elesia was well-known in this area, she was on the Sandringham Business Association and a driving force behind the Sandringham Spring Festival. She put a lot of work into creating the village feel."
Elesia's suburb certainly has a lot to offer its residents. Stuart lists Prague and Viola among his favourite bars and cafes; walkers enjoy the Watea Reserve in Taumata Rd, with its off-leash areas for dogs, and the Mt Albert walkways.
"And the farmers' market is a new thing in Sandringham."
Stuart appreciated that the home's original features had been kept intact. "Usually a house this size has been in six flats or a home for nurses."
From the archway of the stepped entrance, the front door opens into the hallway with the central staircase. Off to the left is the main living space with lounge and dining as one large room, with folding doors there if you want to divide this space.
"We had Christmas in here one time with a long table and about 30 people," says Stuart.
Off to the right of the hallway is a bedroom with another living space, and then a kitchen and bathroom. This space has been used for extended family and friends to stay, with the upstairs area kept for the owners. There are two bedrooms on the second level (the main has en suite), an outside terrace off the hallway, and then another kitchen and large living space. More stairs lead to the turret bedroom on the highest level with its grand views over Sandringham.
"This would also make a great artist's studio or be the place to write that novel," Stuart reckons.
"There are many different ways you could configure the house. It has the structure for doing what people want to do."
Outside, the large garden gets sun all day and Stuart suggests the next owners could move the garaging to the side of the section to make better use of the land.
But now, he and Jim are selling because Jim is based in Christchurch and Stuart is planning to move out of Auckland for work opportunities.
"I'd like to see a family with kids or older relations move in," says Stuart. "But you could buy it and have flatmates; and it would suit people who want to work from home."
He will be sad to leave. "I will miss all our memories. It's been a fun house, a lot of happy parties and dinners, a place for family gatherings."