29 RAUMATI RD, REMUERA
SIZE:
Land 1407sq m, house 300sq m.
PRICE INDICATION:
Comparable properties in the area are selling in the $1.8 million to mid-$2 million range. Auction on site March 5 at 1pm (unless sold prior).
INSPECT:
Sat/Sun 1-1.40pm.
SCHOOL ZONES:
Remuera Primary, Remuera Intermediate, Epsom Girls Grammar, Auckland Grammar.
CONTACT:
Alison Jackson-Mee, Unlimited Potential, phone 021 410 101 or 523 9106.
FEATURES:
Charming home with strong European influence opening out to large, private northwest-facing terrace and garden.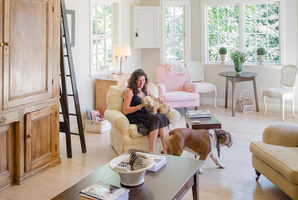 Down a private, leafy, right-of-way, Amanda Alexander has created a traditional English country home from a standard post-war bungalow.
From the front, the house looks like a cosy cottage, with its red-tiled roof and black front door. The surprise comes at the rear. From the tranquil garden, the two-storey house - complete with multi-paned bay windows - has the more generous proportions of an earlier Remuera era.
Back in the 1990s, Amanda was living next door when the generous tree-lined site was destined to become four townhouses. "We heard the developer was selling," she recalls. "My late husband Stewart trusted that I could transform it, so under duress he agreed to buy it."
Amanda has always loved fabrics and design, channelling that creativity into her Daisy Chain clothing and homewares line.
She applied her stylist's eye and years of hard work into transforming the small house on
a fantastic site into an elegant family home.
"I've painted every surface inside and out," says Amanda. "Those multi-paned windows really are multiple panes when you're on the end of
a paint-brush."
She and Stewart started with a radical 18-month rebuild - with two young children.
"The kids loved that they could draw on the walls while we demolished practically everything. The original entry level became bedrooms and the dank, ratty basement became sunny living areas, opening onto a vast sunny terrace.
"We came from England, so I wanted something traditional, with separate rooms," Amanda explains.
She also wanted a place for family and friends to gather, starting with a large family kitchen.
"We have crowds for Sunday lunch but they all end up in here, of course."
Action revolves around the huge butcher's block island - the modern equivalent of the kitchen table. The panelled Smallbone-look cabinets work well with a butler's sink.
The adjacent dining room, with its cosy gas fire, has seated up to 16 people for family lunches, spilling out through French doors onto the sunny terrace. A real log fire anchors the serene bay-windowed living room next door.
"This is my sanctuary," says Amanda.
In later years, when kids Claudia and Zach outgrew drawing on walls, the family added
a spacious second living room off the kitchen.
"They could hang out with their friends in here while the grown-ups were at the opposite end of the house," says Amanda.
The bay window balances the living room's bay, creating a traditional symmetry that Amanda loves. The generous laundry, which matches the kitchen cabinets, and a half-bath for guests are other favourite features.
Summer life revolves around the terrace, big enough to swallow nearly 100 guests at Claudia's 21st birthday party. There's plenty of room for football (or a future pool) in the newly landscaped garden below, which has a sweet little playhouse.
Upstairs, the house was reconfigured to create four generous bedrooms, two with en suites.
Traditional black-and-white wallpaper features in Claudia's room, echoing the classic black-and-white tiling used in all three bathrooms.
Amanda commandeered an adjacent room as her sewing space and also squeezed in a bright office overlooking the front entry.
In the master bedroom, another sanctuary for Amanda, she created a little Juliet balcony above a bay window.
"It's the perfect spot for an evening drink," she says. She also treated herself to a stylish bathroom and well planned walk-in closet.
The cottage-that-grew has witnessed 17 years of Alexander family, friends, laughter and tears.
With the nest emptying, Amanda wants to redirect her creativity and let another family enjoy the home she's created.