110 WEST END RD, WESTMERE
SIZE:
Land 630sq m, house 358sq m.
PRICE INDICATION:
CV $2.1 million. Tender closes March 12 at 5pm (unless sold prior).
SCHOOL ZONES:
Westmere Primary, Ponsonby Intermediate, Auckland Girls' Grammar, Western Springs College.
CONTACT:
Scott Kittelty, ph 021 1601 510 and Wayne Bulog, ph 021 2723 557, Unlimited Potential.
FEATURES:
Sleek, modern contemporary home with a glimpse of the harbour, designed by architect Jason Bailey. This 3-year-old family home is constructed around a central garden courtyard and pool, separating two distinct living zones and offering myriad private spaces.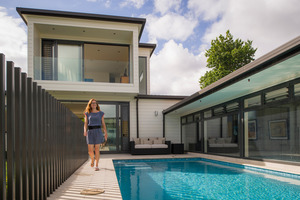 Delwyn and Brent Goldsack had to trust their architect and scale ladders when they designed their Westmere house five years ago. "The old house was so rickety we couldn't even climb on the roof," recalls Delwyn.
With a toddler and new baby, Delwyn's major concern was a proper laundry. "I'd sketched some ideas, but Jason gently persuaded us to look at another concept," she admits. Architect Jason Bailey convinced them that linked pavilions would capture the tantalisingly close harbour view and maximise the narrow urban site.
With the sleeping pavilion at the rear of the house, the upper-floor master bedroom reaps the benefit of a sloping site. "It's a wicked view from up here," says Delwyn. "After the kids are in bed, we chill out up here with a glass of something." The view sweeps over the front living pavilion and Westmere rooftops to Cox's Bay and beyond.
Each pavilion is open on three sides, providing any combination of sun, privacy or shelter the family needs. The central courtyard, with its soft green lawn, becomes another play area for kids running between the main living area and their playroom in the rear pavilion.
"I really wanted a separate playroom," says Delwyn, "and this way, I can keep an eye on them wherever I am."
The slightly sunken circulation spine becomes another playroom in winter, too. "There's scooters up and down here but they can't damage anything," says Delwyn, pointing out the polished-aggregate concrete blocks and pale American oak floor. With the swimming pool at eye level, the long sunny spine doubles as a gallery for Brent's art collection.
Brent and Delwyn love cooking and entertaining, so the German-designed kitchen anchors the spacious open-plan living area. The waterfall island is clad in Corian, while stainless steel folds under cupboards to become a clever baking corner. The kitchen and living area open on to the front terrace. "We actually use this a lot in winter, with the ceiling heater and the barbecue out here," says Delwyn.
There are more harbour glimpses from the terrace, plus a wall of glass sliders on to the private central courtyard.
Slim louvres cool the house all summer. In winter, a gas fire glows and rich velvet curtains at the hallway help retain the heat.
There's more indoor-outdoor living in the rear pavilion, with the playroom opening on to another service courtyard and vege garden. Delwyn got that proper laundry, as well as two bedrooms and a spacious bathroom complete with sculptured oval bathtub.
She and Brent can retire to their upstairs eyrie and admire the expansive view. "We sleep with the doors open and wake up to the view," Delwyn says. Off the walk-in closet, the en suite's oversized copper-coloured tiles reflect the colours of the harbour.
At street level under the living area, the architect has incorporated a guest suite that could become a home office with its own bathroom and kitchenette. "Grandparents visit for long stays," says Delwyn, "so we wanted somewhere private for them." Brent's large wine cellar provides an overflow sleeping area for guests' children, too.
From the street, Brent's favourite touch has become a local landmark: a huge keyhole window in the oversized steel door. "Brent worked with sculptor Mark Hill to design the door. The builder was beside himself installing it."
The rest of the house's wide weatherboards and battened front terrace pay homage to the surrounding bungalows. Just metres from the hub of buzzing Westmere, the house has been a dream project for Brent and Delwyn. They now want to downsize and explore a country lifestyle dream.