422 REDOUBT RD, MANUKAU
SIZE:
Land 1.5ha; house approx 280sq m.
PRICE INDICATION:
Interest expected between $1.45 million and $1.7 million. Auction on site 2.30pm March 2 (unless sold prior).
SCHOOL ZONES:
Alfriston School, Alfriston College.
CONTACT:
Jill Franklin, Barfoot & Thompson Clevedon, ph 021 684 111 or (09) 292 8348.
FEATURES:
Spacious and private lifestyle property in park-like grounds. Keep as is, or subdivide into three lots. Charming circa-1950s home with a swimming pool. Potential with several rooms which could be used as bedrooms. Workshop garaging too. *Plus two or three additional rooms that could be bedrooms.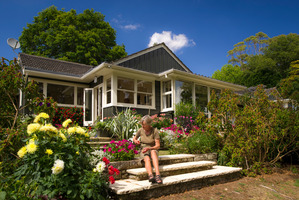 This lifestyle property now brimming with subdivision potential offered the perfect solution when a farming couple bought it 22 years ago.
The park-like block, with stellar views to Rangitoto, was already named "Greenwolds" when the Humphries bought it. Owner Prue Humphries says, "It's unusual, because it's one of the few northern slopes properties left along here that is able to be subdivided."
Its 1.506ha of land on the Redoubt Rd extension can be subdivided into three separate lots. That's an enviable position, since it's at the Tuscany Estates end of Redoubt Rd, near where many premium lifestyle homes have sprung up.
Prue and her late husband, Toby, who died last October, were sheep and cattle farmers in northern Wairarapa. When they retired they knew Greenwolds was ideal, being handily located in Auckland, where Prue's two sisters live. Its tranquillity and ample land offered an ideal transition from their substantial farm.
"For Toby to just have moved into the city wouldn't have been fair," says Prue.
And this property has charm by the bucketload, with its sweeping entrance, mature trees, Prue's colourful gardens, the classically styled home and its far-reaching views.
It's screened from the road by greenery. The driveway curves around a big near-level lawn, harbouring a magnificent oak tree, and back out a separate driveway exit to the road.
Subdividers would consider this lawn Lot One. Those planning to keep the property as one would consider it an excellent place for kids to play.
The existing home and its surrounds could form Lot Two. It's a circa-1950s cedar board-and-batten home with part of its front clad in rock as a feature. One of its loveliest areas is the partially joined living and dining room flanking a central promontory housing an open and a closed fireplace. French doors embrace the outdoors.
Toby particularly appreciated having views all the way out to Rangitoto Island, as he could see so much despite having mobility difficulties.
Another striking room is the big kauri-lined billiard or games room. Prue rubbed her knuckles raw restoring its ornate kauri fire-surround.
Its fine billiard table - being sold with the house - was bought from a Cambridge farmer reputed to have housed it in a specially built, upmarket extension to his cowshed.
There's also a kitchen, laundry and internal-access double garage, a master bedroom with walk-in wardrobe and en suite, another bedroom and two further bathrooms.
The existence of an upstairs attic and a crafts or computer room means there was enough space for 10 people to sleep when overseas-based children and grandchildren visited.
The home's northern face delights in a colourful area of the garden beside mature kahikatea and rimu trees, where Prue's daughter was married. There's also a swimming pool with a deck off to one side and a separate workshop.
The land purposely drops away in front of this colourful garden in a ha-ha - a landscaping feature that keeps grazing livestock out of the garden without interrupting the view.
Beyond this, another expanse of land sheltered by trees on both sides could form the third and final lot. Sharing in the glorious view, it's where the Humphries used to keep a few sheep.
It's time for a new chapter in Prue's life, now she's widowed. She's bought a home in Auckland's Stonefields and is looking forward to having less land and enjoying the neighbourhood's renowned sense of community. She hopes former SPCA cat Isabella will be just as happy there, because Greenwolds' freedom suited her so perfectly, too, since she was originally found living wild.