2 GALATEA TERRACE, HERNE BAY
SIZE:
Land 820sq m, house 460sq m.
PRICE INDICATION:
CV $3.6 million. Tenders close February 27.
INSPECT:
Sunday 3-3.45pm.
SCHOOL ZONES:
Bayfield Primary, Ponsonby Intermediate, Auckland Girls' Grammar, Western Springs College.
CONTACT:
Blair Haddow, Bayleys, ph 021 544 555.
FEATURES:
Immaculate renovation using the finest materials and attention to detail. Three living rooms, media room and swimming pool.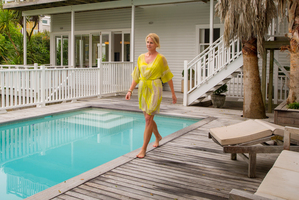 Even at the turn of last century, Aucklanders knew what made a great location: sea views, close to town and fancy new transport technology.
When cutting-edge electric trams replaced horse-drawn transport in 1902, Herne Bay's fate as one of the city's most desirable suburbs was sealed.
Then in 1913, one smart developer built two Edwardian dream homes in Galatea Tce. Similar to surrounding bay villas, the houses were updated with fashionable square bays and vaguely Art Nouveau circular veranda details. Restoring what American owner Randall Wulff called "the peaches" was part of a meticulous renovation he and wife Judy undertook three years ago.
The Wulffs said they just wanted a yard for the new puppy and two kids, but admit they've "lived, loved and renovated villas" since their return to Auckland, where Randall now works for Air New Zealand. The harbour views and generous villa proportions were winners.
The house had benefited from only a few careful owners, but Randall and Judy knew it needed a bit more love.
"The front four rooms are virtually original," Randall says. "They're all 13-foot [4m] studs with five different patterns of pressed tin ceilings."
The hallway's elaborate arch and pillars, and the carved corner fireplaces, hark back to a more gracious era. Those tall square bays feature in the front living room and master bedroom next door, with two more large bedrooms across the hall.
Beyond the elegance of the front four rooms, older renovations at the rear of the house were a bit tired. "The bones were great," says Judy, "with the sunny windows and sea views." Not so great was the room-darkening cork floor and timber joinery.
"It made such a difference painting everything white and opening up the western wall with sliders," she says. Judy claims it's the sunniest house she's ever lived in, tracking the sun from the living area's bay window: morning coffee, sunny winter reading nook, evening glass of wine watching the harbour.
The couple were experienced planners so specified a classic panelled kitchen, packed with storage. "I can be cutting veges and look up to see a yacht race on the harbour," Judy says. The marble waterfall benches give way to stainless steel in the clever butler's pantry.
Two upstairs bathrooms have benefited from their touch, too. They slotted in a light-filled en suite with double shower, while a generous family bathroom was reclaimed from a back porch, with its own harbour views from the sculptural bathtub.
More dramatic changes took place on the lower level. The wide, shaded upstairs veranda has stairs to the lower decks and a transformed garden. Randall trucked in 300cu m of scoria, sand and soil to create a level drained lawn, so that puppy got the best playground in town.
A heated pool surrounded by decks keeps his people and their friends happy, too.
Inside, the Wulffs have streamlined a warren of downstairs rooms into a family area with separate entry and lots of potential uses. A remnant of the house's past as the Mercury Theatre's storage and "party house" is now a separate media room, complete with vintage Air NZ first-class seats. New French doors from the spacious games room blur indoor and outdoor entertainment options.
One large bedroom has its own generous en suite, and adding a double-size salvaged window created another light-filled garden bedroom. A marble-topped laundry could become a kitchenette, plus there's masses of storage and a separate toilet handy for swimmers.
Twin peaks on the double garage reflect the street's character and conceal yet more storage and workrooms below.
With this old lady's heritage restored, Randall and Judy can now contemplate another project in their favourite part of Herne Bay.