45 KEWAI STREET, OMAHA
SIZE:
Land 870sq m (approx), house 294sq m.
PRICE INDICATION:
Interest expected above CV of $1.9 million. Auction March 14 (unless sold prior).
INSPECT:
Sat/Sun 3-3.45pm from Feb 16 (apart from 11-11.45am Feb 17) or by appointment.
SCHOOL ZONES:
Matakana School, Mahurangi College.
CONTACT:
Paul Elsden, Bayleys Omaha, ph 021 936 011 or (09) 945 2273.
FEATURES:
Architecturally designed home with pathway to the beach and enduring beach views. Being sold fully furnished. Has earned more than $1000 a night (peak season) as a holiday home.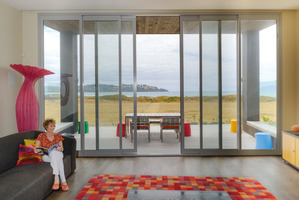 Some folk titch about the "sameness" you'll find across houses in the newer end of Omaha, where premium houses can favour similar colours, materials and designs. But this one is a striking individual, conceived to chase the beach views that'll still be available when beachfront houses are eventually built in front of it.
Owners Jim Bradley and Paula Hunter live in Auckland but environmental engineer Jim's roots are in the South Island.
Neither husband nor wife had stepped foot in Omaha before 2002.
Paula is a town planner who also interviews others applying for full membership of the NZ Planning Institute.
She was impressed by the application of the town planner who worked on this subdivision. The couple took a leisurely drive to check it out.
Paula recalls, "We loved the beach and the subdivision. We went to look at a show home and the next minute Jim's shaking the man's hand and buying this section!"
"It just felt right," smiles Jim.
Door-knocking on an appealing local property led them to choose its designer, Auckland-based architect Frans Kamermans, to create their own holiday home.
Part of the appeal of this "second-row-back" section was its inclusion of a strip of land forming a pathway down to the beach.
Also, being offset behind two yet-to-be developed sites rather than directly behind either ensured two different aspects of view. A central "view corridor" to the beach and out to Ti Point will exist once the front sections are sold and built on. And a higher building height limit towards the rear of the section promised wider elevated views.
Frans' design concentrates on three interconnected shapes. The finished home by builders A & F Sibbing made the top 27 residential homes in World Architecture News' 2009 awards. When the couple aren't holidaying here they rent it out as a holiday home commanding more than $1000 a night. Kamermans and Co designed the landscaping, interior and key pieces of furniture for the home, which is being sold fully furnished.
Alongside the internal-access double garage, vertical slats screen large windows in the entry stairwell. "They make the light radiate out beautifully at night, as if from a lantern," says Paula.
Nautical inspiration helped Frans choose key composition structures of a dark-stained, floating cedar wedge reminiscent of a telescope and a tall, red ColorSteel oval referencing surf-lifesaving towers. These are linked by the stairwell to the third shape, a plaster-over-block cube.
The wedge gets wider and higher towards the beach, containing the open-plan kitchen-living-dining area and culminating in massive glass doors. It opens to both front and side decks to suit different wind directions. Carefully considered fittings and furniture include a designer kitchen island hewn from massive granite slabs, super-long curvaceous sofas and custom-made bar-stools from rimu made silky from years underwater.
The "cube" contains four bedrooms (one with an en suite, one a bunkroom, one alternatively an office) plus two further bathrooms and a laundry. The upper master suite in the red oval soaks up elevated sea views, some of them delivered through a window of curved glass.
Jim says, "One morning I was pulling the curtains and there were six surf lifeboats coming in on a great big wave straight out there in front of me. I think the psychology of this flowing room gives it real warmth. It's nurturing."
The suite has nice separation from the rest of the home, a walk-in wardrobe plus an en suite where recycled-glass mosaic tiles glimmer in the bluey-green colours of the sea.
The home makes use of sustainable features and its native dune-style garden incorporates schist paving and some curvaceous mounds echoing the dunes' soft curves.
The couple say they'll reminisce equally about sociable times entertaining here and being cosily ensconced amid extraordinary tranquillity on moody winter weekends. But now that former widower Jim's children and grandchildren are South Island-based, the couple want to spend more time with them.