33 RAUTARA STREET, ORAKEI
SIZE:
Land 407sq m (fee simple title), house 233sq m.
PRICE INDICATION:
Similar properties have sold upwards of $850,000. Set date of sale 4pm, February 27 (unless sold prior).
INSPECT:
Sat/Sun 12-12.30pm
SCHOOL ZONES:
Orakei Primary, St Josephs Primary, Selwyn College.
CONTACT:
Mike Zelcer, Ray White Orakei, ph 520 7412 or 021 934 240.
FEATURES:
Modern four-bedroom home in quiet Orakei street with spacious living area, and bedrooms upstairs and down. North-facing, with views out to Rangitoto. Secured entrance and landscaped garden. *Or 3 and 2 living areas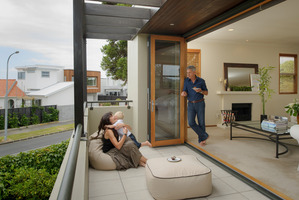 Peter Mochrie left his work address at Shortland Street, where he played Dr Callum McKay, in May. Now his home address is also changing as he and his wife, Sally, sell their Orakei home.
"Last year was a year of endings. I ended on Shortland Street, and my agent, who I had been with for nine years, retired."
Peter's plans after six years on the Street were to try his luck in Hollywood. He sent tapes to studios and was offered auditions. But this doting father of 2-year-old Cade didn't feel right in that tinsel town environment.
"I wanted to have a look at Hollywood. But I realised it's not a place I want to move my family to and raise my son."
Instead, he headed to Sydney, a city he had lived in for 35 years before coming to New Zealand.
Within a short time, Peter had a new agent, a job offer on the ABC TV series Janet King, teaching roles at National Institute of Dramatic Art (NIDA) and the Sydney Drama School and work as an auctioneer for McGrath Real Estate.
So now the family are re-establishing themselves in Australia. "It's quite daunting," admits Peter, "but everything in Aussie has fallen into place.
"We want to live in the eastern suburbs and we'll pick out a new car. I've been based in Sydney since January and will commute back and forth until the house is sold."
Their two-storey home was built in 1998 and sits on the corner of Rautara and Ngaio streets. It is a traditional plaster home with wooden detailing. Coming in through the security gate, a path leads to the entrance of a welcoming foyer, three bedrooms plus bathroom.
On the second level you have the living area with kitchen and a north-facing deck with views of Rangitoto. Peter and Sally's master bedroom with walk-in wardrobe and en suite is also on this level.
"We get all day sun here," says Peter. "We see the sun rising from our bedroom and then it moves around the house with the afternoon sun coming into the living area."
The home has been great for entertaining. At least once a month the Shortland Street crew and directors would gather here for a long lunch as well as for a few parties, the most notable being Peter's 50th, a joint celebration as he and Sally announced their engagement.
"Amanda Billing, Ben Mitchell, who plays TK, and Adam Rickitt came," says Peter. "Remember Adam Rickitt?"
The arrival of Cade in March 2010 made this into a family home, and Sally and Peter changed their entertaining style more to lunches, brunches and "endless parties for children".
"Parents think it's great because we can shut all the gates and know the children can run around and ride their bikes," says Sally. "It's a safe house."
Peter's favourite spot is the living room; while Sally plumps for the garden. "We love being out in the garden. Cade is a real outside boy."
Peter points out a meditative corner with Buddha and Ganesha statues, plantings of agapanthus, dietes and lilies, harking back to skills he gained working in landscape design in Sydney.
The family have loved living in Orakei, close to the beach and to Orakei PlayDay Preschool for Cade. But Sydney offers exciting opportunities.
"I have so many avenues to explore," says Peter.
Sally will stay on in Auckland with Cade until the house is sold and then she plans to branch out into health nutrition in Sydney, building on her marketing and brand management background.
They think their home would work for anyone - parents of young or teenage children, young professionals or empty nesters. "It's nice and spacious," says Sally. "Airy and light."