47A BELL RD, REMUERA
ADDRESS
SIZE:
Land 613sq m, house 186sq m.
PRICE INDICATION:
CV $970,000. Auction February 13.
INSPECT:
Sat/Sun 12-12.30pm.
SCHOOL ZONES:
Victoria Avenue Primary, Auckland Grammar, Epsom Girls' Grammar
CONTACT:
Lesley McLellan, Ray White Remuera, ph 0274 535 070.
FEATURES:
Quiet, private three-level home with valley views and flexible living spaces in sought-after school zones. Bonus of a double garage with attic storage space.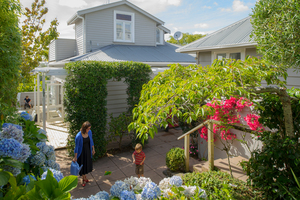 Busy families will love the tranquillity this property offers, says Jane Loudon
PHOTOS/TED BAGHURST
Staying at home with three active preschool boys would be enough to make most mums feel claustrophobic - but not Remuera doctor and mother, Annick Hood.
Annick says the house she and husband, Dr Chris Hood, fell in love with eight years ago has such a sense of space, light and tranquillity that she doesn't feel the need to get out even when at home with their three busy sons Adam, 1, Zac, 3, and Lucas, 5.
The British couple first came to New Zealand on a working holiday in 2001. After 18 months here they were seduced by the Kiwi lifestyle, so after returning to England, they decided to move here permanently in 2004.
While renting in Parnell they began searching Auckland's central suburbs for a house that would be close to the city's public hospitals where Annick, an anaesthetist, and Chris, a renal physician, would be working.
"We were going to go for something modern but they were all a bit soulless," says Annick, who pretty much decided that this 1910 villa fitted the bill as soon as she walked through the gate.
"I loved the peace and quiet and the fact that it was so sunny."
The Hoods' three-level home is one of three down a right-of-way in Remuera's Bell Rd which looks out over the picturesque valley between Victoria Ave and Arney Rd.
The sun rises and tracks over living areas which run east-to-west on the mid-level of the house before bathing the northwest-facing front courtyard in afternoon light.
The Hoods inherited a home that had been well renovated in 1996 to create flowing living spaces and make the most of the views over the valley.
Their own improvements have included renovating one of the three bathrooms recently, upgrading the kitchen, painting the exterior and interior and adding Santa Fe shutters to the upstairs bedrooms and living rooms.
After living in well-heated English homes and finding New Zealand ones cold in winter, the Hoods also invested in gas central heating.
"It was expensive, but it was the best money that we could have spent. The house is very toasty and warm in the winter which is important with young children."
At 186sq m spread over three levels, the house is larger than it looks from the street and includes multiple spaces to accommodate a family as well as guests or a live-in nanny.
The mid level where you enter the house includes an L-shaped informal living space consisting of the kitchen, dining and family room, which open out to a deck that adjoins the front courtyard.
Off the family room is an elegant, airy formal lounge with open fire place and a beautiful ceiling rose. A bathroom and two large bedrooms, including one that opens to the courtyard, are also on this level.
On the lower level is a large bedroom with its own bathroom which would be ideal for a teenager, guests or a live-in nanny. This area, which opens conveniently to the lower garden and utility area, includes a spacious office, laundry concealed behind hallway cupboards and a small wine cellar.
Upstairs the master bedroom has its own bathroom, walk-in wardrobe and private deck with a peep of Rangitoto Island.
Above all, the Hoods have loved the strong sense of community in their neighbourhood.
"Our neighbours next door are like grandparents to our children, who spend a lot of time playing in their garden, and there is a walking bus that goes past the top of driveway to Victoria Avenue School."
With three growing boys, Annick says the family are now looking for a house with a larger garden.