13 SCHOFIELD ST, GREY LYNN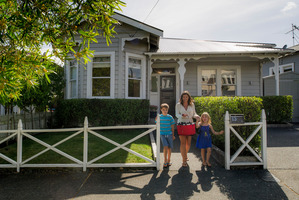 Inside and out, this circa 1910 transitional villa has made quite a name for itself over the years.
Its front face has featured in a TV commercial for baby's nappies. The door between the hallway and the living area has had a cameo role in another commercial.
Outside, the towering oak tree that sold Lisa and Gareth Hedges on this appealing back garden can be seen from nearby Grey Lynn Park. The park is a popular focal point for neighbourhood families.
Much further back in its history, this home was a well-known party house - something Lisa and Gareth only learned when they moved here four years ago. Its popularity in the days when it was in two flats - and the fact that Lisa and Gareth learned all this from newfound friends at various children's parties here and in the neighbourhood - says a lot about this community's convivial spirit.
"We met up with people who'd been here at various parties and they'd look around and go, 'I've been to some really good parties here'," says Lisa.
Since then, the house has undergone a significant transformation. About six years ago, a developer converted the two flats back into a family home, thoughtfully making space for both an en suite and a separate dressing room off the main bedroom. A smart kitchen was installed and an elegant bathroom, complete with claw foot bath, was fitted out off the hallway close to both the living area and the children's bedrooms.
Lisa remembers thinking how lucky she and Gareth were to find a home with three double bedrooms as well as two bathrooms.
"Having an en suite bathroom as well as a big bathroom plus a walk-in wardrobe with all that storage was just great. We hadn't expected to get all that in a house that also had three bedrooms," she recalls.
"That felt quite grown-up really. That and having a big garden has been great," says Gareth.
At the time they'd sold their apartment in the Gluepot complex in Ponsonby and taken their two children, Harry, now almost 8, and Ruby, now 5, out house hunting. They'd spent 18 months looking closer at homes to the city because UK-born Gareth preferred city living and because they'd also owned a flat together in London 10 years ago.
When they ventured further afield and walked into this house they were captivated by its offerings indoors and out, including the towering oak tree, the deck and the flat, private back lawn.
They only needed to have curtains fitted across the two sets of French doors to the deck for winter warmth. In time, they replaced the roof, laid a new concrete driveway and front path and installed a lockable storage shed off the car parking area.
The inside of the house, with its bungalow details, has been a perfect fit, with bedrooms off either side of the central villa-style hallway and the living area's connection with the outdoors.
The kitchen includes a rear-wall laundry behind closed doors, a generous pantry and, on the opposite side, a granite bench that overlooks the garden and the stand-alone raised vegetable/herb garden on the deck. A mature loquat tree brings in the birds; a fine day and spare time brings Gareth outdoors to practise his golf chipping on the lawn.
Gareth and Lisa have decided to settle long term on the North Shore where Lisa grew up. Making the decision to shift has been the easy part. Letting go of their ties to this home and neighbourhood is proving a little harder.
"This house has been such a lovely size for us," says Lisa.
"We've loved being together as a family here and it is a breeze to keep clean, which is always nice."