81 PIHA RD, PIHA
SIZE:
Land 3010sq m, house 110sq m.
PRICE INDICATION:
$785,000.
INSPECT:
Sunday 1-1.40pm.
SCHOOL ZONES:
Oratia Primary/intermediate, Henderson High School.
CONTACT:
Jim Trubuhovich, Piha Real Estate, ph 021 979 404 or 812 8646.
FEATURES:
Security-gated entrance, cedar-clad home with colour corrugated iron roof, covered decks, double bedrooms and Kent-style fireplace. Additional water storage. Other schooling choices include Karekare Mini School and Piha Community Preschool.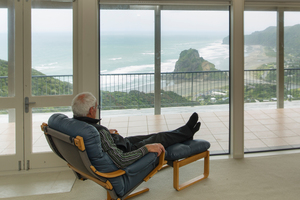 Garry Danswan's keenness for surprising his family with the gift of a new home has made for an interesting life for him and his wife Glenys and their four now-adult children.
He has exercised his flair for impulse buying some "21 or 22 times" during their 47 years of marriage and he did it again in January 2006 when he bought this property. He bought it, then took the entire family out to Piha for coffee and drove up here to show them their next abode.
At the time Garry and Glenys had become well used to waking up to glorious harbour views from their central city penthouse apartment.
Then, on a spur-of-the-moment thought, while Glenys was in Australia on holiday, Garry, then a hotel/motel real estate broker, headed out to Piha, one of West Auckland's most popular beach communities.
"I knew that Glenys loved the big views so when I saw this one I decided that this was it. It had the most amazing uninterrupted views and I said to Jim Trubuhovich, the real estate agent, 'That's fine'." Within the hour, the unconditional sale was complete and still no one knew anything about it.
On Glenys' return, Garry rounded up his family, sold them the notion of a day trip to Piha and then took a detour up this driveway to introduce them to the cedar-clad home with its sweeping views.
This home, which had been designed and built as an artist's home and studio, quickly became a popular extended family destination.
With its taupe painted weatherboards and denim blue-coloured, pitched, corrugated iron roof, it has settled pleasingly into the landscape that looks north out across Lion Rock. The living areas, that open out to terracotta and stepped-down timber decks, are upstairs.
They'd regularly eat breakfast outside on the deck. At night they'd dine by the light of the setting sun and its red sky beyond the horizon. The downstairs bedrooms also open to the outdoors, with courtyards that are sheltered from the summer heat beneath the upper decks.
Now retired, Garry ran his business from the office beside his garage.
He'd drive his German shepherd dogs down to the beach for their off-lead exercise or let them romp outdoors against a backdrop that has rendered overseas visitors here speechless for its clarity and beauty.
"It was a great retreat place," he explains of the memories of his son's wedding here and the time his son's in-laws from Europe stayed on for a memorable holiday.
There are even views of the beach from the bath, he explains. "This home has 180-degree views. That's what sold it to me."
Sadly Garry and Glenys' five years of living here ended two years ago when Garry suffered a stroke. He couldn't manage the steps down from the garage to the house and the steps out to the decks so they had no choice but to move to another home they owned in Helensville that was more suitable.
Garry's fond memories of this place include ideas he had for additional features such as the installation of a spa pool downstairs.
"I'm a very thoughtful person," he says, happily sharing his vision. Garry and Glenys' own plans are quite a detour from this property where he bred German shepherds and their Helensville home where he bred goats instead.
They have bought a property in Orewa that they intend to renovate before they move in. They bought this latest property together and he rather enjoyed the collaborative experience for a change. "That has been fantastic. I'm now earning brownie points rather than losing them."