286 Coatesville-Riverhead Highway, Coatesville
SIZE:
Land 1.23ha, house 410sq m (including enclosed rear veranda).
PRICE INDICATION:
$2.9 million to $3.2 million. Sale closes 4pm, November 28 (unless sold prior).
INSPECT:
Viewing by appointment.
SCHOOL ZONES:
Coatesville School, Albany Junior High School, Albany Senior High School.
CONTACT:
Nicky White, Precision Real Estate, ph 021 754 667.
FEATURES:
Large, elegant character home set in beautifully landscaped grounds with vast areas of lawn. Deep, wrap-around veranda provides outdoor living. At the rear, the home opens to landscaped gardens that include a pool complex with cabana.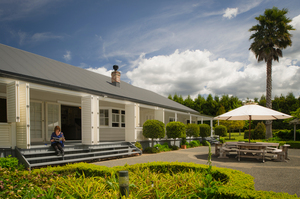 Plans to build a new home were put on hold after Trish Blackmore went on a garden tour in Coatesville.
"I told my husband [Allan] that I had just seen this gorgeous home for sale," says Trish.
Although Allan was keen to build, Trish convinced him and his builder to come and look at the Queenslander-style home at 286 Coatesville-Riverhead Highway.
"The builder said, 'You could build something like this, but this home has the X factor,"' says Trish.
However when Allan sent Trish to pick up some documents from a real estate agent some time later, she thought he had gone ahead and bought 8ha out in Kumeu to build on - and her heart sank even further when she drove past the home of her dreams to see it had sold.
But at the agent's office, she was stunned to find out it was Allan who had bought it.
That was 13 years ago when the house was just three years old. The grounds were incomplete, although there was a comprehensive garden design and planting plan.
"The previous owners had just started the gardens when we bought the house and we finished them off," says Trish.
"Now, all those years later, the garden is really coming into its own."
So much so that the symmetrically arranged trees and shrubs frame the house beautifully along the drive. Towering palm trees punctuate the site, while lavender bushes are used to soften the driveway lighting. Vast expanses of lawn surround the long, low house, which is flanked by a triple garage and a shed with a carport.
Exterior character features such as a finial, stained-glass windows and a deep, wrap-around veranda are matched by wooden floors, corbels along the hallway, ceiling roses, sash windows and dado rails atop wooden panelling inside.
It was this elegant look, coupled with modern comforts such as comprehensive insulation and heat pump-powered central heating, that appealed to Trish.
Bedrooms occupy the western end of the house, with the master at the end having a large en suite and doors opening to the rear veranda.
Either side of the front door are a formal dining room and a formal lounge with open fire. At the rear of the house is the large open-plan space that comprises a family room (with gas fire and built-in bookshelves) and country-style kitchen with granite benchtops.
This space also opens to the rear veranda, which has shutters so that it can serve as an outdoor room. The veranda is large enough that there is plenty of room to set up a table outside bifold windows from the kitchen.
When the shutters are pulled back, the house opens to landscaped grounds with an outdoor entertaining area that steps down to the pool complex. At one end of the in-ground pool is a changing shed, while at the other is a cabana with its own kitchen and sound system.
Again, the gardens at the rear of the house are a picture of symmetry with formal elements such as box hedging and clipped bay trees, with plants behind in contrasting textures and colours.
It's the sort of environment that provided the perfect setting for the March wedding of the Blackmores' daughter. But now that the couple's children have moved on, they are pursuing Allan's ambition to create a new home.
Trish is hoping that events will turn full circle when someone else falls in love with the house on a tour because it will be one of those featured in a charity event, Christmas in Coatesville, to be held on November 24 (christmasincoatesville.co.nz).