30 Westbourne Road, Remuera
SIZE:
Land 791sq m; house 419sq m.
PRICE INDICATION:
Comparable properties have sold between $3 million and $4 million. Expressions of interest close 4pm, November 8.
INSPECT:
Sunday 12-12.30pm.
SCHOOL ZONES:
Victoria Ave Primary, Remuera Intermediate, Epsom Girls' Grammar and Auckland Grammar.
CONTACT:
Gary Wallace or Vicki Wallace, Bayleys, ph 0274 988 585 (Gary), or 021 988 585 (Vicki).
FEATURES:
Architect-designed, award-winning home in unique parkland-type setting with flexible floor plan.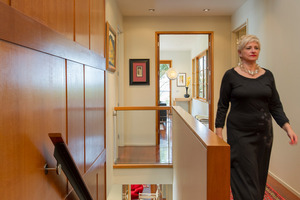 In their 2003 local residential awards, the New Zealand Institute of Architects described the Hartdegan's house as "a passionate and joyful building" responding to a complex site. Owners Ken and Eska think of it as a finely crafted machine for luxurious living. And as passionate architecture fans, they knew what they wanted.
They'd tested other parts of Auckland before finding the sloping, tree-covered site in Remuera. Ken had carefully researched award-winning Auckland architects before commissioning Leo van Veenendaal of VRLA. "People were nervous about the site," says Ken, "but it's the last pocket of 200-year-old trees here and we wanted to work around them."
They had a demanding brief for the house itself - it had to work as Eska's barrister's chambers and Ken's music studio. The style of the house reflects their passion for Craftsman architects Greene & Greene and early 20th-century furniture. "We could never copy," notes Ken, "but we were influenced by their craftsmanship and detail."
From the private right of way, the bagged-brick and copper-clad volumes of the house glow against the giant kauri and totara behind. The copper is coated to achieve the soft green patina. Horizontal timber slats and sliding shutters manage sun and privacy, paying homage to the Craftsman Japanese aesthetic. Each level delivers a different glimpse of the trees, with decks, courtyards and windows carefully sited to collect sun and views.
Graceful timber detailing also features inside, with glowing kwila floors and cedar joinery. Clever interior planning means that business clients arrive at the boardroom, with a view of treetops from folding glass doors. Eska's adjacent office enjoys the same peaceful outlook, while the storeroom is plumbed to become a future en suite.
Sliding doors separate the private side of the house from the business end, although the boardroom becomes the formal dining room when Ken and Eska entertain. Architect Leo loves coming for dinner and enjoying the tree views from the living room terrace and sliding timber windows. "You get the best views from your seat," insists Ken. The fireplace is mostly for effect, as gas central heating and insulation keep the house comfortable year-round.
Careful detailing by interior architect Paul Rosnell is evident, from the silky oak panels in the living room to clever built-in storage throughout. The separate, eat-in kitchen features tons of customised storage, including drawers in the kick-boards and a generous scullery/pantry room. The Craftsman aesthetic continues in the timber accents on soft grey cabinets.
Timber panelling and clever storage feature downstairs too, tucked into the tree trunks. In the spacious library, tall built-in bookshelves frame slivers of tree views, creating a calm space. Next door, a bright guestroom opens on to its own sunny courtyard. The two downstairs bathrooms share a similar palette of timber and tile, incorporating more clever storage and underfloor heating.
Insulated for sound and opening on to the woody slope, Ken's domain offers multiple possibilities. The suite of two rooms and bathroom is currently his music studio and office, but ideal for teenager or granny.
The third floor master suite is a real tree-top haven. "It's wonderful to live under the umbrella of the trees," they say. Grandchildren can sleep in the sunny fourth bedroom, or admire fat wood pigeons from the tree-top deck. Shuttered sliding windows collect morning sun, and pull breezes from the double-height atrium below. In the generous master bathroom, Eska loves her private bathtub among the trees, and the cleverly-fitted walk-in closet swallows her shoe collection.
Thoughtful clients and Craftsman-like designers have created a clever solution to 21st-century living and working. Eska and Ken will miss their tree-top haven when they downsize to travel.