34 Franklin Road, Freemans Bay
SIZE:
Land 177sq m, house 120sq m (approx).
PRICE INDICATION:
Similar style properties in the area are selling in the $900,000 to $1 million range. Auction October 31 (unless sold prior).
INSPECT:
Sat/Sun 1-1.30pm.
SCHOOL ZONES:
Freemans Bay School, Ponsonby Intermediate, Auckland Girls' Grammar, Western Springs College.
CONTACT:
Andrea and Duncan Ritchie, Bayleys, ph 021 906 793 (Andrea) or 021 400 811 (Duncan).
FEATURES:
Two-storey kauri villa with upper and lower front verandas, second lounge, and northwest-facing backyard. *Residents parking permits available for this street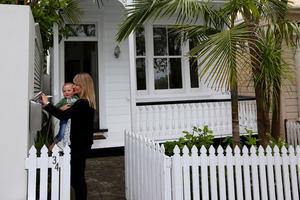 Living on convivial Franklin Rd has added to the charm of owning this picturesque two-storey villa, say Ian and Kate Wright.
People often comment on the street appeal of the home they share with smiley 15-month-old son Jack. It's thought to have been built around the turn-of-the-century, and is adorned with fretwork and two levels of front veranda. The house has recently been painted and sits behind a low picket fence not quite half the way down Franklin Rd.
Kate says: "You tend to know a lot of your neighbours because of the Christmas lights."
Ian admits his initial participation in the Christmas lights extravaganza was pretty insipid, having bought here as a single fellow nearly seven years ago. The couple's Christmas light skills peaked shortly before Jack was born when they decorated outside with lights strung within colourful Chinese lanterns.
Ian knew he wanted to buy somewhere around Ponsonby when he returned from London. "I got used to having a really vibrant high street where I could, on the spur of the moment, pop out the front door and within five minutes be somewhere. I wanted to replicate that lifestyle and not always have to rely on a car, so when this place came up I thought 'fantastic'.
"Also, I liked the fact it had a nice little rear garden where I could go outside in the evening or have barbecues - a sort of city hideaway in some ways."
Kate says the location's also been great for her as a young mum because after having Jack she's rarely needed to drive. "I just bundle him into the Mountain Buggy and walk up to Ponsonby, walk down to the supermarket, walk into town ..."
The couple relies on street parking, with residents' parking permits available for their road. A mature cabbage tree reigns over the smart but low-maintenance front garden.
Visitors often says it's roomier inside the weatherboard villa than they expected. It's laden with kauri, including polished kauri floors, which gleam under the high-stud battened ceilings. Ian reckons a reputed Virgo trait of being meticulous came into play when he did some restoration, including painstakingly renovating double-hung windows. The open-plan living-dining room-kitchen near the rear of the home has a character wood-burning fireplace, complemented by another in the additional front lounge.
The home's rear has a separate laundry with toilet and entry out to a compact but eminently usable backyard, which faces northwest for maximum sun. There's storage under the stairs to the upper level, where an upstairs hallway links a family bathroom and three bedrooms.
The roomy master bedroom has French doors opening to the front veranda, which looks out on to the plane trees planted along the road in the early 1880s.
The rear bedroom has a subtly peaked ceiling and views right down to the harbour, while Jack's got the bedroom closest to his parents, which also has nice views.
The family is selling as its needs are changing, and Kate has recently chosen to work from home.